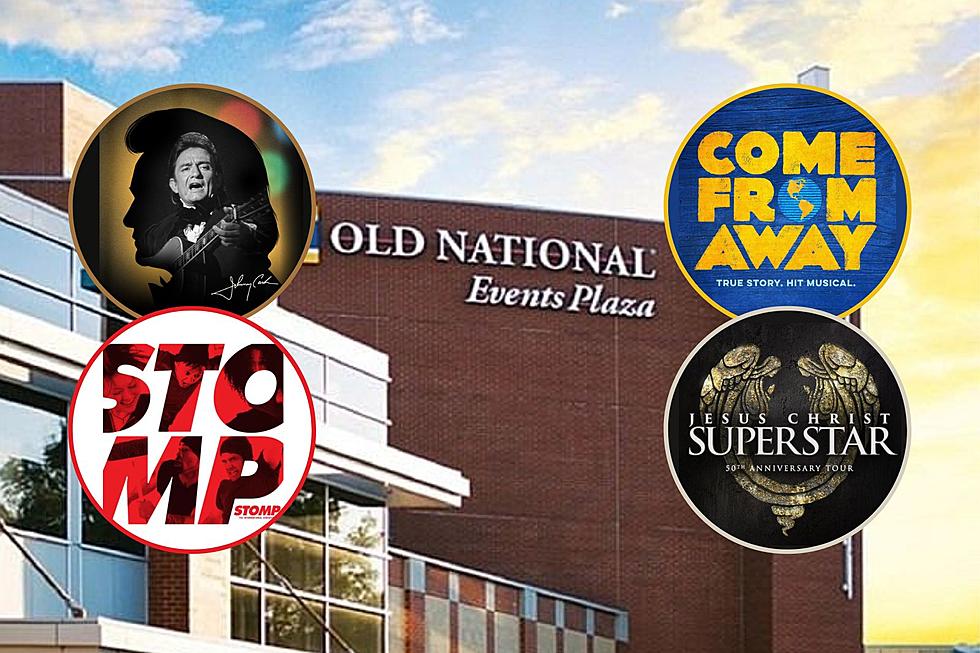 Four Amazing Shows Announced for 2023-24 Season of 'Broadway in Evansville'
OldNationalEventsPlaza.com
We are so fortunate to have a venue like the Old National Events Plaza (ONEP), which includes the beautiful Aiken Theatre, here in Southern Indiana. The ONEP hosts dozens of shows and events each year, including concerts, comedy shows, kid's programs, conventions, banquets, and more. When it comes to the Aiken Theatre, there is no doubt that the Broadway in Evansville series is one of the highlights every year.
The Old National Events Plaza recently announced the lineup for the 2023-24 Broadway in Evansville season starting this Fall, and what an impressive lineup it is. Here's what ONEP General Manager, Nick Wallace has to say...
The upcoming season offers a wide range of shows that will appeal to our entire community. From more traditional hits to newer, contemporary titles, the 2023-2024 Broadway in Evansville season has something for everyone.
2023-24 Broadway in Evansville Season Lineup
Johnny Cash - The Official Concert Experience | November 2, 2023
Using state-of-the-art technology, Johnny Cash's iconic voice has been lifted from archival concert footage and recordings, enabling the "Man in Black" to perform his biggest hits – songs like "I Walk the Line" and "Ring of Fire" – with a live band again! In addition to never-before-seen footage and on-screen narration by Cash's only son, John Carter Cash, male and female vocalists will split singing duties to perform even more Cash hits, as well as tunes by artists of the time including The Statler Brothers, Carl Perkins, and June Carter Cash.
STOMP | January 19, 2024
The international percussion sensation has garnered an armful of awards and rave reviews and has appeared on numerous national television shows. The eight-member troupe uses everything but conventional percussion instruments – matchboxes, wooden poles, brooms, garbage cans, Zippo lighters, hubcaps – to fill the stage with magnificent rhythms.
Come From Away | February 15, 2024
This stirring and inspiring musical takes you into the heart of the remarkable true story of the small town in Newfoundland that opened its homes to 7,000 stranded travelers on 9/11. During that fateful week, cultures clashed and nerves ran high—but uneasiness turned into trust, music soared into the night and gratitude grew into enduring friendships.
Jesus Christ Superstar | April 21, 2024
Celebrating its 50th Anniversary, a new mesmerizing production of the iconic musical phenomenon returns to the stage. Appealing to both theater audiences and concert music fans, this production pays tribute to the historic 1971 Billboard Album of the Year while creating a modern, theatrical world that is uniquely fresh and inspiring.
(Information courtesy of Old National Events Plaza)
The on-sale dates for each individual show will be announced at a later date - that's fine because you really should be buying season tickets anyway. Subscriptions start
as low as $130 for the 4-show package. Get tickets at oldnationaleventsplaza.com, or by calling the ONEP box office at 812-437-8300.
See How Downtown Evansville Has Changed Over the Years
I find looking back on the way things used to be fascinating. Don't get me wrong, I'm glad I'm living through the current time period. The conveniences of answering any question we have in seconds, or ordering practically anything we want or need and having it delivered to our doorstep is pretty sweet. But, there is something fun about seeing how things around us have evolved. As an Evansville native, and spending quite a bit of my time in downtown Evansville (that's where the station is located), I've always appreciated the older architecture of the buildings around the area. So, I dug into the Willard Library Archives to see how a few of those areas look now compared to then. Some have changed a little, others quite a bit, and a few don't even exist any more. Take a look.