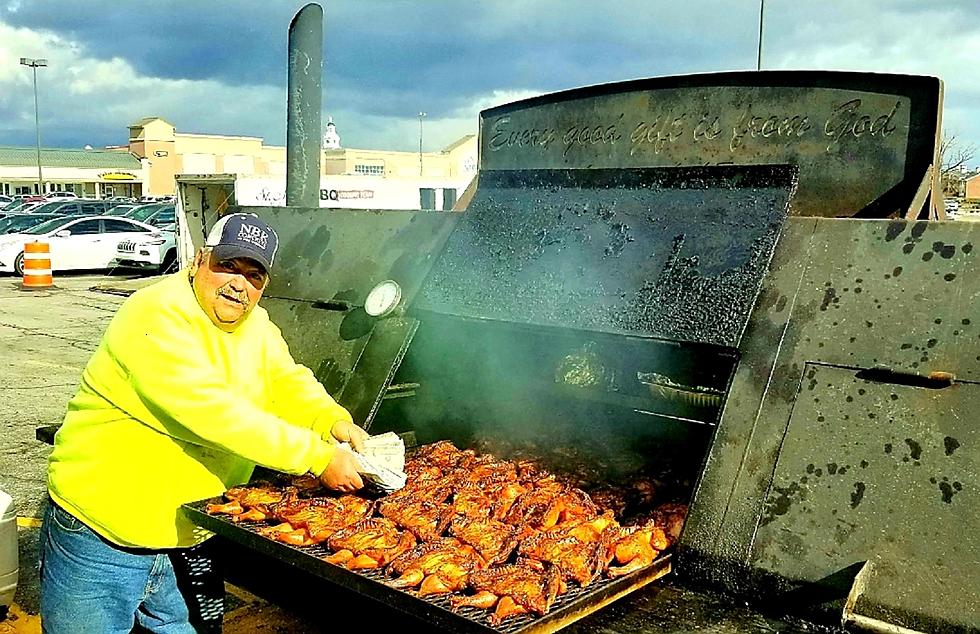 In Owensboro, Jerry Morris is Gonna Beat the Ice Storm with Boston Butts
Dave Spencer/Townsquare Media
The National Weather Service has issued an Ice Storm Warning for parts of the tristate and that includes the Owensboro area.  As you likely know, our annual St. Jude Radiothon begins tomorrow and the Angels for Ashley Cooking Team is preparing to cook up Boston buts, ribs and chickens for our event.
Mother Nature has thrown all of us a great big curve ball.  We can deal with snow.  In fact, back in 2015, Jerry Morris and the Angels for Ashley dug their smoker out of 20 inches of snow and pulled that thing from Whitesville to town for a record-setting cookout.  Ice is a different story.
Last night, Jerry salted up 300 Boston butts to get them ready for Thursday.  But the threat of ice has made Day #1 of our Radiothon and cookout incredibly uncertain.  So, we've decided to beat the storm.
This afternoon, Jerry and the Angels for Ashley will be bringing 150 butts to Shoe Stop at Wesleyan Park Plaza.  And they're cooking up 500 chickens too! Look.  We know you'll be hitting up the stores for bread and milk, so why not make a big ole Boston butt part of your plan.
BOSTON BUTTS will be $35
CHICKENS will be $12
(of course, we'll gladly accept more for the children of St. Jude)
And, remember, our St. Jude Radiothon takes place this Thursday and Friday (ice storm or not), just a week and some change ahead of the Super Bowl.  So, if you're looking to have a Big Game party planned, you can stock up by buying meat from Jerry and the team.  Plus, you'll be helping out a tremendous cause in the process.
If you've ever visited our cookout at Wesleyan Park Plaza, you know Jerry and his team have absolutely mastered the drive-thru experience.  It's quick, easy, and the food is DELICIOUS!  The changeover from rain to freezing rain isn't scheduled to happen until this evening, so we're gonna get you hooked up while we can.
Food sales will begin between 3 to 4pm this afternoon.  We'll let you know more precisely once we hear from Jerry this afternoon.
All proceeds from the Angels for Ashley Cookout will benefit St. Jude Children's Research Hospital.
Be sure to tune in to the WBKR/Window World St. Jude Radiothon.  As I mentioned, it airs Thursday, Feb 3rd and Friday, Feb 4th from 6am to 7pm CST each day.  Angel and I will tell you how YOU can become a St. Jude Partner-in-Hope for just $19 a month for 12 months on a credit or debit card.
Enter your number to get our free mobile app
Country Artists at St. Jude Through the Years:
See the ABCs of Cancer: