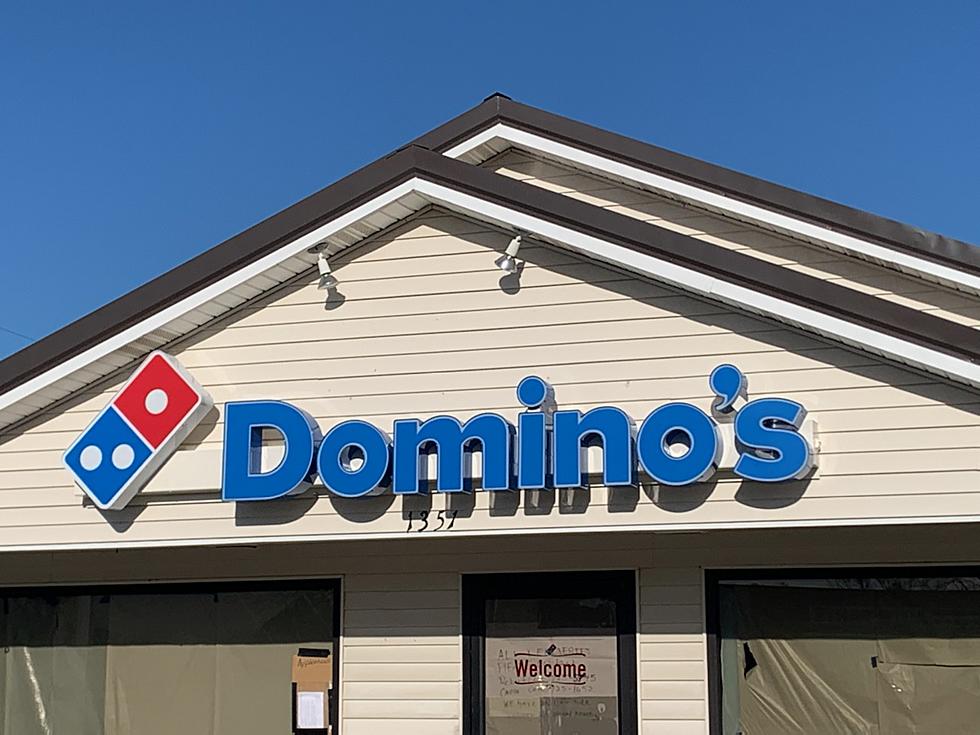 Questions Answered, New Beaver Dam Domino's Opening Soon
Barb Birgy
A new Domino's Pizza location was slated to open in January 2022 in Beaver Dam. After 90 days of delays, the time is closer to its highly anticipated grand opening. They're also hiring for various positions. Check out the menu.
When I was driving through Beaver Dam a few weeks ago, I was excited to see a new Domino's Pizza location on the horizon. You really can't miss the restaurant when driving down North Main Street. The building is bright and beautiful, soon it will be smelling delicious too!
Lisa Macy, "When are you opening?"
Sharon Archangel, "When will you be open??"
Latrisha McDaniel, "When do you all open the doors?"
New Domino's Opening in Beaver Dam
January 23rd, 2022 was supposed to be a great day. It was National Pie Day and the Grand Opening was planned for the new restaurant. The new Domino's location in Beaver Dam was set to open, but it wasn't to be. It's hard to believe that everything would change, based on an "oven hood". Because of state law, a fire suppression hood was needed before the opening of the restaurant. There were delays getting the hood from the company, then they waited on parts to arrive, only to find out that the sprinkler system also needed to be upgraded. It has been one thing after another, but if all goes well, they hope to open next week.
Janet Daugherty Coulter, "Praying that all gets better for you and will work out soon."
Felicia Howell, "Hang in there, perfection takes time!"
Linda Patten, "All good things come to those who wait. It will happen."
Robbie Poppy Creek, "Hang in there it will open soon! I'm ready!"
Brenda Mercer, "Love this pizza! So excited for Ohio County!!"
Opening Day Excitement

I had a chat with the owner, Carla Lawson today about the progress being made and more. She talked about how important it has been to make sure early excitement for the grand opening continues throughout the delays. She's tried to think of ways to engage on social media while staying transparent with the struggles at hand. There are frequent trivia contests with questions about how pizza is served all over the world. She and her husband Robert opened their first Domino's location on May 22nd, 2000, and currently have locations in Russelville and Central City, and hopefully very soon, Beaver Dam. They know how important it is to always stay active in the communities in which they serve! Trust me, the excitement is STILL there on social media.
Jason Decker, "Well, I can't wait until y'all open. Been waiting for one close. But, prayers that it will be soon."
Heather Blair, "Hang in there! More time just lets everything fall into place. Ohio County is anxiously awaiting."
Rebecca Bidwell, "You will get there. And it will be great!!!!"
Jason Decker, "Well, I can't wait until y'all open. Been waiting for one close. But, prayers that it will be soon."
Heather Blair, "Hang in there! More time just lets everything fall into place. Ohio County is anxiously awaiting."
Josh Mizanin, "Are you still hiring?"
Monica Jade Fulton, "When the next time y'all are doing interviews?"
Jason Norton, "What's the hourly rate for this position?"
Amanda Tooley Lee, "What's the age that someone can work there?"
Domino's is Hiring in Beaver Dam
The management team and inside crew are pretty set for the moment, but they will be in need of delivery drivers. That may change as they may have to hire some extra team members once the demand is established after the soft opening.
Drivers start at $9 per hour $2 per delivery tips and mileage paid nightly. Applicants must pass a background check and drivers must pass MVR (motor vehicle record).
All applicants will be required to train at our Central City location with paid travel mileage.

Carla explained that many long-time crew members are like her family. They leave an everlasting mark on her and Robert, Carla shared with me.
Traci Midkiff, "What is the delivery distance going to be?"
Jason Norton, "Do you deliver to Cromwell?"
Sherrita Marshall, "How far is your delivery area?"
Ordering & Delivery of Domino's Pizza in Ohio County

Many have been asking on social media how far delivery will go in Ohio County. The rule of thumb is that delivery is within a 5-mile radius. They will offer some "Hot Spot" locations a little further out to accommodate some schools and factories that are close by. I love this idea. They work with businesses and organizations to offer a stop, in a well-lit area, so people can grab their pizza. For example, Southern Elementary is a perfect "Hot Spot" location to be close to Perdue. They'll also make "bigger" deliveries out of the area if order criteria are met with a small extra delivery fee tacked on. They're used to tackling large orders for churches, business parties, schools, etc.
Traci Midkiff, "Will you be having door dash available?"
Door Dash isn't available at this time because of Domino's great delivery service.
Rhonda Lynn Rowan, "When are y'all opening, and will you have dine-in eating available??"
Hoping to open next week, and there will be a few tables inside to eat at. It's not going to be an eat-in restaurant per se, but if someone is on a lunch break and wants to grab a slice, it's an option.
Ron Anderson, "Where is this store in Beaver Dam, KY?"
Domino's is located across from O'Reillys Auto Parts, next to the bank, in the old Charlotte's Furniture store location.1351 North Main Street in Beaver Dam, Kentucky.
Christine Kerr, "Welcome to Beaver Dam!! I am so glad we finally got a Domino's Pizza in our town!"
Ron Anderson, "Ready to order too. Can't wait!"
Michelle Lynn Milam, "Looking forward to eating pizza here!"
Domino's in Beaver Dam Store Hours
Restaurant Hours will be Sunday through Thursday 10:30 AM through midnight and from 10:30 AM until 1 AM on Friday and Saturday.
"We have been with Dominos for over 32 years. We just hope that you enjoy our pizza, love our prices, and want to come back because you are going to get a great product. We know there will be plenty of mistakes made, but we will correct and learn. We just want our team to have a great opening experience, meet our new customers and be a part of Domino's history in Beaver Dam. We are truly humbled by the outpouring of support."
Rebecca Bidwell, "You will get there. And it will be great!!!!"
Greg Embrey, "Hang in there, anything worth having takes time!"
Patsy Stacy, "I'm so happy we're getting Domino's Pizza."
LOOK: Food history from the year you were born
From product innovations to major recalls,
Stacker
researched what happened in food history every year since 1921, according to news and government sources.