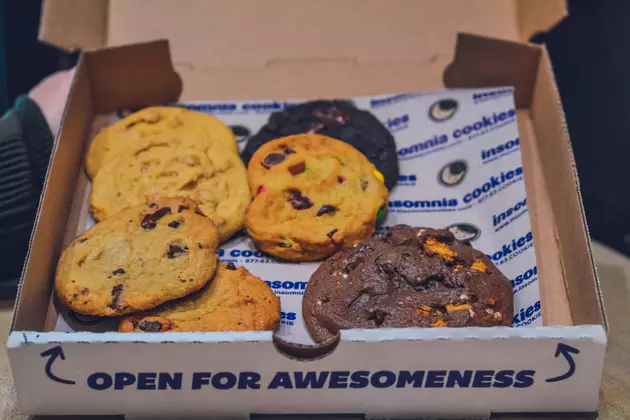 Work Underway in Downtown Evansville for Indiana's Next Insomnia Cookies Location
Photo by Alex Haney on Unsplash
Things are about to get more delicious in downtown Evansville as work is now underway on Indiana's next Insomnia Cookies location.
Sugar Cravings?
Picture it: You are up late working on a big project when you realize you need something sweet to help you keep burning the midnight oil. Speaking of midnight, you've just looked at the clock, it's 12:15 am, and there is nothing in the kitchen that is going to quell your sweet tooth. What do you do?
Limited Late Night Options
Right now, your options are pretty limited. You either resign yourself to ignoring your sugar craving or you hop in the car and head to the gas station, but let's face it. You are not going to find much in the way of a quality treat at the same place you pump your gas.
New Delicious Developments in Downtown
There are plenty of places in downtown Evansville to grab a bite to eat, especially if you are headed to an event or concert but what about after the show? What about when you're craving something sweet and it's after midnight? Right now there are not a lot of options for late-night snacks in Evansville, but things are about to change. Insomnia Cookies is coming to Evansville!
Cookies - After Midnight
Insomnia Cookies is open late - until 3 am and they even offer delivery service at most locations until at least midnight for their cookies.
The Insomnia Cookies concept was created in 2003 by then-college student, Seth Berkowitz, in his University of Pennsylvania dorm room. The idea was born out of a dislike for the heavy meals that local late-night food options
offered, and a love for the convenience of delivery. To provide the midnight snack that he knew students were craving, Berkowitz began baking and delivering warm cookies around campus, and that's how Insomnia Cookies' future was set in motion
As far as the selection, Insomnia Cookies offers menu items like Deluxe cookies, their Cookie'wiches which are actually ice cream sandwiches, Big'wiches - cookie sandwiches made with buttercream frosting, as well as brownies, cookie cakes, and more. They even offer special catering packages.
Insomnia Cookies - Coming Soon
According to a post from Downtown Evansville, construction began today on the all-new Insomnia Cookies location. Once renovations are complete, you'll be able to find Insomnia Cookies at 318 Main Street in Suite 100, in the building known as Innovation Pointe. There is no word yet on when we can expect the cookie company to open their doors downtown but we are excited to welcome them to the city.
See Inside The Downtown Evansville Historic Scotsman Building