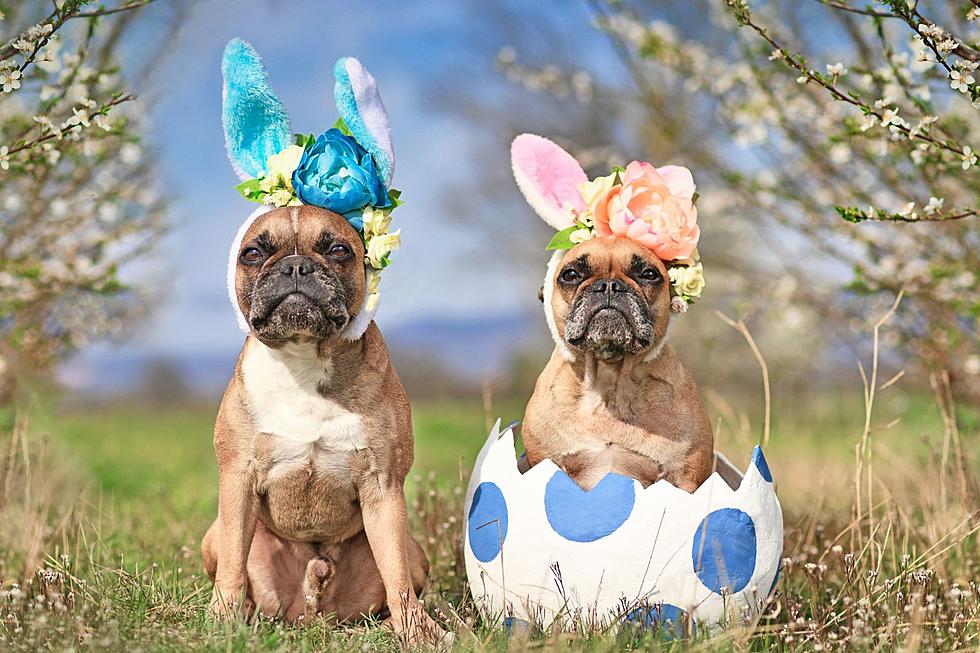 Easter Has Gone to the Dogs! Event Helps Rescue Pups in Owensboro, Kentucky
CANVA
Saving Paws Animal Rescue of Kentucky's annual Easter Bone Hunt is set for Saturday at Ben Hawes Park in Owensboro. There will be a lot of toys and treats for all the pups to find. A professional photographer will be on hand to take pet portraits too! Your four-legged best friend deserves some fun.
Over the years this event has grown, with 100s' of pups looking for special treats that are hidden all over Ben Hawes Park. It's so fun and a chance to support  Saving Paws Animal Rescue of Kentucky. It doesn't get any better than that!
10TH ANNUAL SPARKY EASTER BONE HUNT
Come out to Ben Hawes Park on Saturday, April 8th, 2023 from 11:30 until 1:30 for a great time with your favorite furry family members. Meet SparKy pets while you're there, and find all the ways you can help in their rescue mission.
Professional portraits will be done by Dream Copy Photography starting at 11:00 am and they'll email you a digital file, that you can print and use on social media to share with friends and family!
Registration starts at 11:00 am and the first hunt will start at 11:30 am.
It's always busy at the beginning, so if your pet is sensitive to excitement or just starting to get socialized, coming later to the event will ensure a quieter hunt.
All dogs need to be updated on vaccinations and remain on their leashes while at the event.
Cost:
$10 per dog to hunt.
$20 per pet for pictures.
OR you can do both for only $25!
All proceeds go to Saving Paws Animal Rescue of Kentucky!
SPARKY OPEN HOUSE PLANNED
We are happy to partner with Volunteer Owensboro for the Serve Our City Spring Break week open house event! If you've ever thought about volunteering for SparKy, stop by our rescue center at 1004 E. 18th St on Wednesday, April 5, from 2-5. Current volunteers will be available to show you around. Please join us!
Bark In Style Fashion Show to Benefit SPARKY
LOOK: Here Are 30 Foods That Are Poisonous to Dogs
To prepare yourself for a potential incident, always keep your vet's phone number handy, along with an after-hours clinic you can call in an emergency. The ASPCA Animal Poison Control Center also has a hotline you can call at (888) 426-4435 for advice.
Even with all of these resources, however, the best cure for food poisoning is preventing it in the first place. To give you an idea of what human foods can be dangerous, Stacker has put together a slideshow of 30 common foods to avoid. Take a look to see if there are any that surprise you.