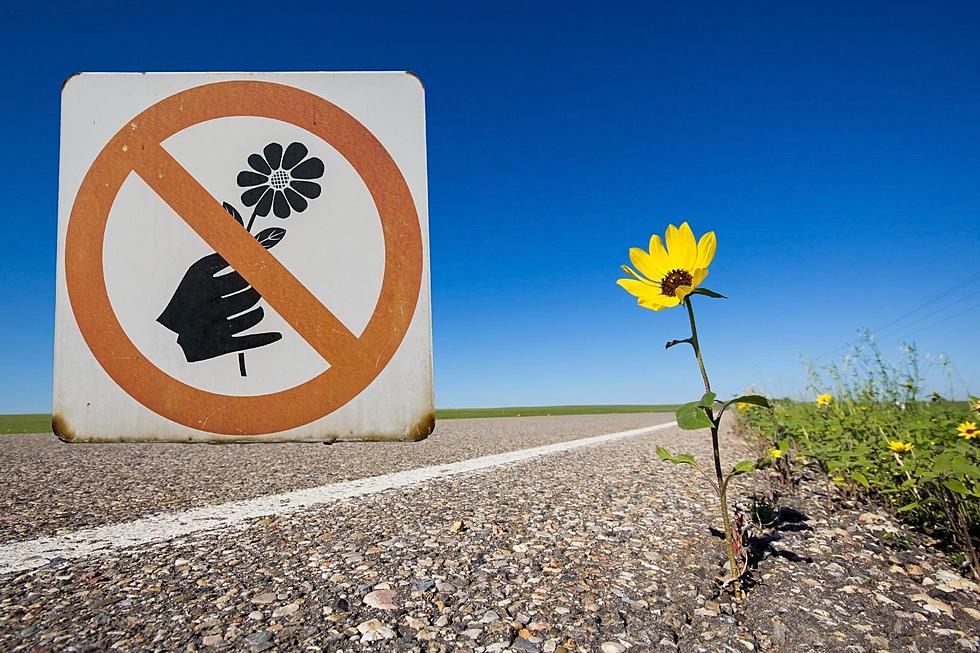 Is It Illegal To Pick Wildflowers From The Side Of The Road In Kentucky? [VIDEO]
CANVA
Spring is here and we know because of all the beauty it brings with it.  There are flowers blooming all over the place and if you're like many people you want to pick them.  You may want to think twice before you actually do.
THIS IS A SAFE PLACE FOR CONFESSIONS
Just go ahead and admit it.  You've picked a flower or two that didn't belong to you in your lifetime.  Whether it was at the park or taking a walk down the street because it was so beautiful.  You may even have been so bold to stop on the side of the highway when the daffodils were in full bloom and scooped up a handful to take home and place in a pretty vase on your window seal.  It's happened but we're here to tell ya you may have been breaking the law EKKKK!
IS IT ILLEGAL TO PICK WILDFLOWERS ON THE SIDE OF THE ROAD?
According to the USDA;
State or County highway rights-of-way: It is illegal to cut, destroy, mutilate, or remove plants growing upon State or county rights-of-way. This means no collecting along the side or in view of a road.
Don't worry you aren't going to jail.  However, in some states, it is a crime to pick certain wildflowers.  If you are driving down the road and spot a gorgeous patch of wildflowers and stop to pick them you could be stopped by law enforcement.  Even though it is legal to pick the flower you are in a right of way which is only supposed to be utilized in the event of an emergency and picking wildflowers hardly constituents bells and whistles.
OTHER PLACES YOU SHOULDN'T PICK FLOWERS FROM
It is also illegal and tacky to pick flowers from the local parks and public places that have planted them to enhance the beauty of their space.  If you see a dandelion growing in the middle of a park those are perfectly safe to pick.  Picking your neighbor's roses from their yard is not.
LEGAL PROTECTION OF WILDFLOWERS Federal Lands: On National Forests, Parks or Monuments, it is illegal to pick or collect plants without a permit. National Forests issue permits for scientific and educational purposes. Permits must be carried while collecting; law enforcement personnel may ask to see the permit. State and Private Lands: It is illegal to cut, destroy, mutilate, or remove any native tree, shrub, fern, herb, bulb, cactus or flower from public lands. It is also illegal to take plants from private land without written permission from the owner.
IT IS NOT TECHNICALLY ILLEGAL TO PICK WILDFLOWERS IN MANY PLACES
With all that said it is not technically illegal to pick wildflowers.  There are so many reasons not to pick them.
According to the USDA;
ECOLOGICAL REASONS NOT TO PICK WILDFLOWERS: 1. Flowers are more than beautiful structures that appeal to humans; they exist so the plant can reproduce itself. Many of the most spectacular blossoms are specially designed to attract certain pollinating animals. The number of flowers pollinated combined with their arraignment of the stem can make a difference between reproductive success or failure for the entire year. 2. Removing wildflowers from annuals, plants that bloom for only one year and then die, means the seeds of the plant would have made will not be there for next year's wildflower season. 3. Many species of wildflowers have already suffered great reduction in numbers over the last 100 years because of increasing alterations of their habitat.
30 Spectacular Photos from Wild Lights at the Louisville Zoo
Wild Lights at the Louisville Zoo is underway March 18th through June 5th. Here are 30 amazing photos from the event to give you a sneak peek at the exhibit.
25 Stunning Wildlife Photos from Amboseli National Park in Kenya
For our summer vacation, Kevin and I traveled to Africa for a safari in Kenya. Our first stop was Amboseli National Park, which is world renowned for its impressive population of elephants. And the park delivered. Not only did we see an incredible amount of elephant families, we saw giraffes, zebras, wildebeests, monkeys and, yes, a lion! Here are some of our favorite photos from our visit.
Animals From The Nashville Zoo