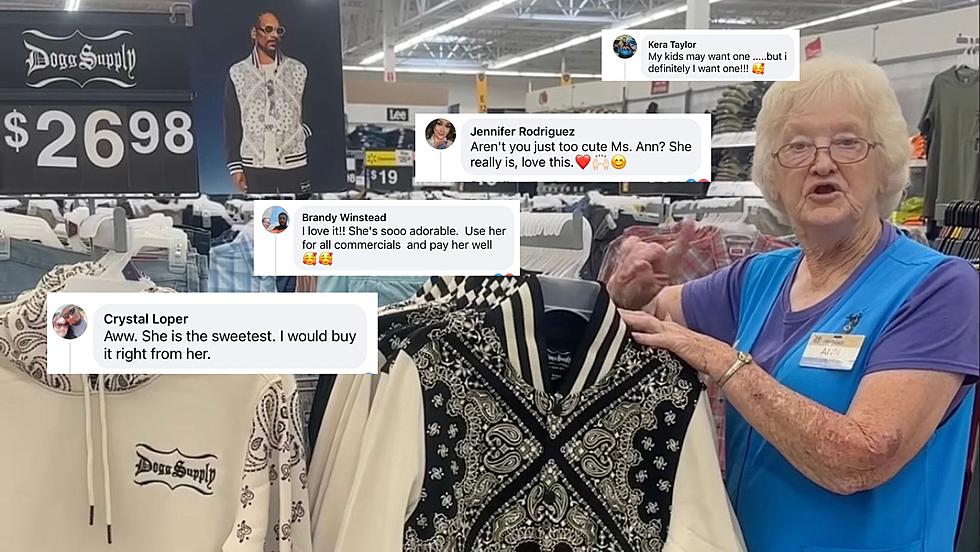 Kentucky Walmart Employee Wins Thousands of Hearts Modeling Snoop Dogg's New Clothing Line
Walmart Ashland- US Route 60 Facebook/CANVA
Ann, a much-loved employee at a Walmart in Ashland, Kentucky has won the hearts of thousands of folks on social media with her adorable advertisements around the store. She is on track to becoming the next viral sensation with followers of the page even creating the hashtag #weloveann and nicknaming her "The Legend" in the comment sections. You will see why!
In one of her videos, she mentions the toys they have on sale. Ann gives advice about buying Christmas presents early.  Don't tuck them away and forget where you put them! OK, how did she know that has happened to me before?
In another, Ann is modeling a really nice swing. "Maybe I can talk Randy into buying me one, ya reckon?" she says. Although she admits that she would probably not ever get anything done because she'd spend all of her time "Just a swangin'"
In her most recent and seemingly most popular video, she is showing off the new clothing line they have for sale designed by West Coast rapper and entrepreneur, Snoop Dogg. "Look isn't this cute? It's as cute as it can be. What's it say? Snoop Dogg? No, it says Doggy's Supply."  I don't think Snoop has ever had a hype woman as awesome as Ann!
Ann is building quite the fan club as you can see by the comment section on the video.  Her adorable and genuine presentation of the sales at her store is hilarious at times and relatable to so many people! I love me some Snoop Dogg, but I think Ann is even cooler.  What an icon!
KEEP LOOKING: See what 50 company logos looked like then and now