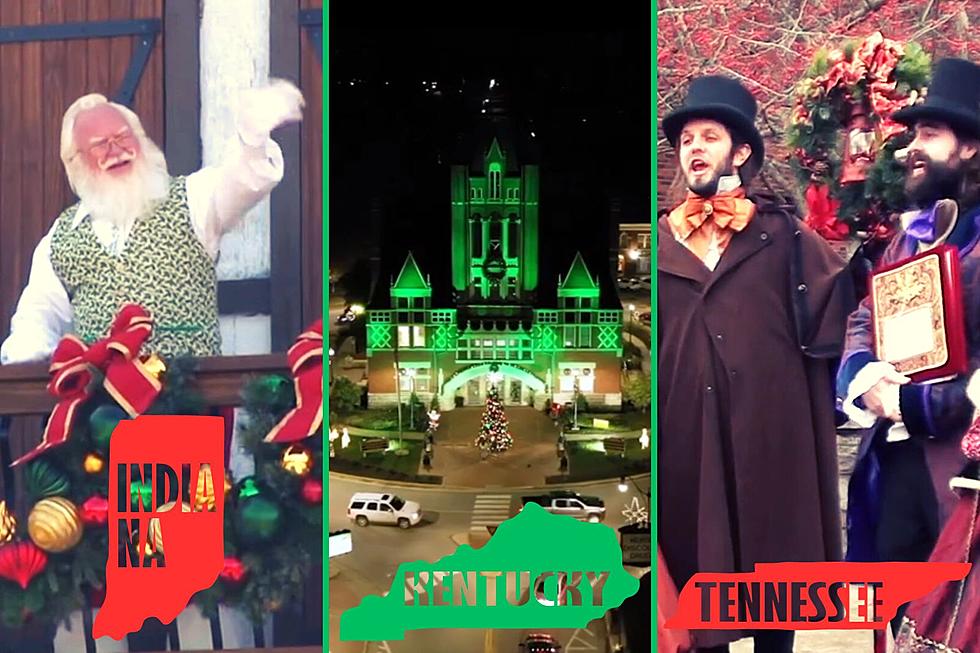 KY, IN, and TN Make the Cut on a List of the Most Magical Christmas Towns
Visit Bardstown via Facebook; O'Round the World via YouTube; WISH-TV via YouTube; Canva
Right this very second, outside my window, it is NOT beginning to look a lot like Christmas. We're enjoying late fall warmth at the moment, making Christmas carols hard to come by as ear worms.
But I know that will soon change. Well, we even know some folks who put their Christmas tree up BEFORE Halloween. So, warm weather or not, for them, it IS beginning to look a lot like Christmas. And with that being the case, I know of three towns that are raring to go. Their time to shine is nigh.
Country Living--a magazine I grew up with because there wasn't a time my mom didn't have a subscription--has done the leg work and come up with the 30 most magical Christmas towns in the country. That must have been some fun leg work. Three of them are pretty close to home. Heck, one of these three may BE your home.
Bardstown KY
Earlier, when I mentioned "their time to shine," I wasn't forgetting that Bardstown's time to shine is pretty much year-round. The history, the bourbon, the food, the bourbon. Bardstown is a prime destination any time of the year. Country Living was so enamored of the Light Up Bardstown celebration, the Fun Christmas Corner, and the tree lighting ceremony--among other things--that it placed this Commonwealth gem at No. 16.
Franklin TN
I don't need to be sold on Franklin TN. I love this small suburb of Nashville and have actually come to prefer it. What with all the increasing and rampant verticality, Music City has lost some of its charm. Franklin has lost none. Way up at No. 6 on the Country Living survey, Franklin has become a favorite holiday destination for visitors anxious to take a step back in time; the city's annual Dickens of a Christmas celebration brings 'em in from far and wide. You can even hang out with Jacob Marley and Ebenezer Scrooge. Sure, one's a ghost and the other is a bit grumpy, but talk about holiday season CELEBRITIES.
Santa Claus IN
You just KNEW this had to be on the list. In fact, I would have emailed a rather pointed missive to the folks at Country Living had Santa Claus been excluded. But nobody can do a list like this and omit and town called SANTA CLAUS. I will say this, though. Finding it all the way down at No. 28 was a bit of a head scratcher. No matter. Santa Claus is a MUST for the Christmas season. I'd think that goes without saying. Between Land of Lights, the Christmas Store, the candy store and just the general vibe, it's a can't-miss for the holidays. Yes, I know Holiday World is there; I also know it closes for the season after Halloween. But it's fervent spirit is always present, especially during Christmas.
If you were looking for some fun Christmas road trips without spending TOO much time on the road, Bardstown, Santa Claus, and Franklin may be just what you've been looking for.
LOOK: 25 over-the-top Christmas displays from across America
To help get everyone in the mood for the upcoming holiday season,
Stacker
compiled a list of some of the most over-the-top Christmas displays across America.
Gallery Credit: Annalise Mantz & Madison Troyer
LOOK: See what Christmas was like the year you were born
Gallery Credit: Isabel Sepulveda