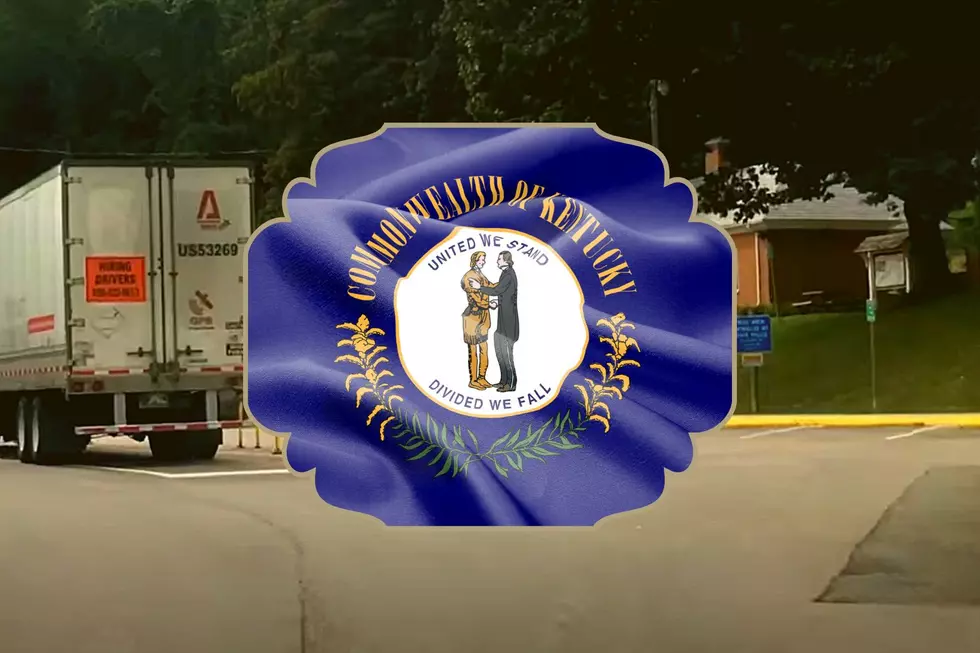 Laws Regarding What You Can and Cannot Do at Kentucky Rest Areas
Bill Marion via YouTube; Canva
Some of the memories I enjoy of our family vacations when I was a kid revolve around rest areas. Yes, I know, there's nothing exciting about a rest area. I get it. But you're not me. I enjoy road travel SO much, even rest areas--a necessary part of such activities--are part and parcel of a good trip.
For starters, just about every single one of them comes loaded for bear with more brochures than you can shake a stick at. So, if you're traveling and you know you'll have extra time, you have PLENTY of suggestions for filling those voids.
But be respectful of the roadside rest area. Bathroom breaks and picnic possibilities mean we need them to be at the top of their game. WE should be, too.
THE RULES AND REGULATIONS AT KENTUCKY REST AREAS
First of all, let's state the obvious...DON'T DO ANYTHING YOU KNOW TO BE ILLEGAL. Hopefully, something like that doesn't need to be listed. But there may be questions about the LESS obvious. And we'll find our answers here as part of 603 KAR 5:040, which governs the usage of Kentucky rest areas. And here they all are:
SLEEPING IN YOUR CAR AT KENTUCKY REST AREAS
With the word "rest" right there in the name, you might think you could pull over late at night and catch a good night's sleep, but you'd be wrong. According to Section 1 of the statute:
The use of a safety rest area located within the right-of-way of limited access facilities shall be limited to a maximum of four (4) hours during any twenty-four (24) hour period for the same person or group of persons.
In other words, naps are fine; a healthy dose of shut-eye is not. But there are exceptions that may be granted by the Kentucky Transportation Cabinet, as noted in Section 3 of the statute:
The Transportation Cabinet may grant permits to exceed the limit in Section 1(1) of this administrative regulation upon application therefore showing that such permission will contribute to the safety of motorists. Persons actually engaged in work on such limited access facility requiring their presence at such safety rest area are excluded from the application of Section 1 of this administrative regulation.
PETS AT REST AREAS
Pet owners are already well aware of rest area rules regarding their furry loved ones. Not only are they not allowed inside any building on rest area property, but there are also always designated walking areas for them. That way, pedestrians can avoid tracking you-know-what onto their floorboards.
CARGO TRAILERS AND MOBILE HOMES AT KENTUCKY REST AREAS
In the simplest terms, "don't unhitch." But if you'd like it spelled out, 603 KAR 5:040 can do that, too:
Rest areas shall not be used as a relay station or transfer point for trailers in transit. No cargo trailer or mobile home shall be uncoupled from the power unit in a rest area except in case of fire or explosion.
BUYING AND SELLING AT KENTUCKY REST AREAS
We're all familiar with the "no soliciting" signs we see in most businesses. The same applies to rest areas in Kentucky.
Safety rest areas shall not be used by any person for the purpose of displaying, selling or offering for sale, any merchandise, wares, produce, services or any other items, except as authorized by section 153 of the Surface Transportation Assistance Act of 1978

.
That, by the way, is H.R.11733. I read it, and I'm not sure I understand it. But you can take a crack at it here.
SOME FUN HISTORY ABOUT INTERSTATE REST AREAS
I'll leave you with this. It's something I wish I'd had when I was a kid, but there was no Internet--or computers, for that matter--back then. Yep, the Dark Ages.
Bill Marion has a YouTube channel on which he posts highly informative and very fun videos about his and his wife's travels across the USA. He even has one about the history of our nation's rest areas:
Safe travels, everyone.
See the Must-Drive Roads in Every State
LOOK: See how much gasoline cost the year you started driving
To find out more about how has the price of gas changed throughout the years, Stacker ran the numbers on the cost of a gallon of gasoline for each of the last 84 years. Using
data from the Bureau of Labor Statistics
(released in April 2020), we analyzed the average price for a gallon of unleaded regular gasoline from 1976 to 2020 along with the Consumer Price Index (CPI) for unleaded regular gasoline from 1937 to 1976, including the absolute and inflation-adjusted prices for each year.
Read on to explore the cost of gas over time and rediscover just how much a gallon was when you first started driving.