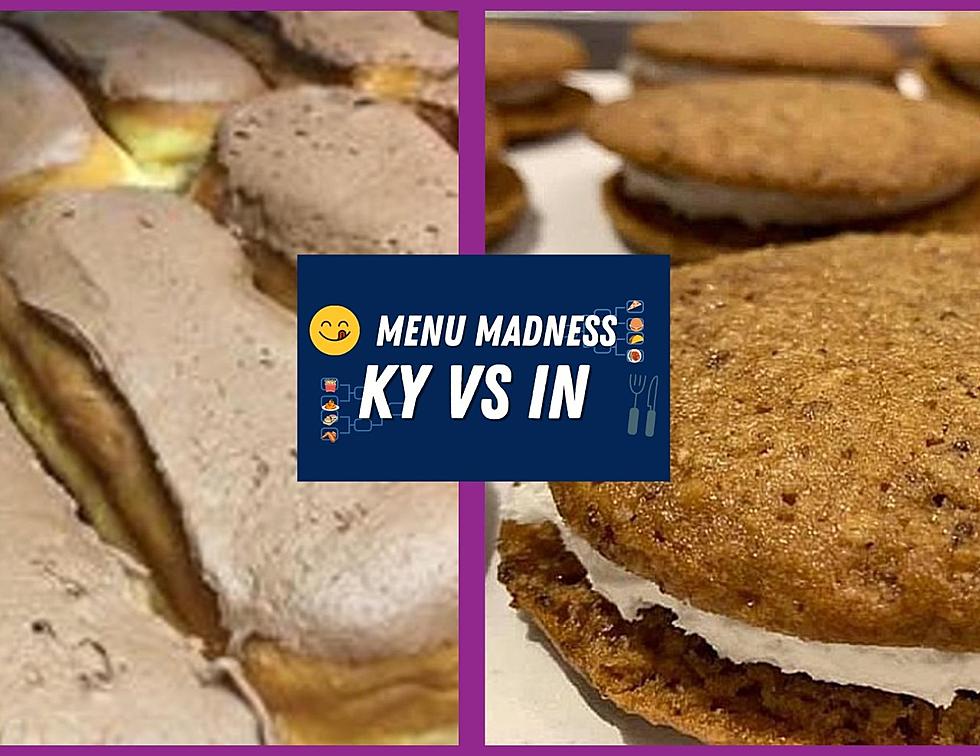 MENU MADNESS: Vote Now for the Kentucky vs. Indiana Showdown!
CANVA
You have spoken!  The votes are in. They're tallied. And we are now down to our two finalists in our Menu Madness contest sponsored by Robert John & Associates.
First, we have to give a shout out to our regional champion from western Kentucky.
Yes! The Chocolate Long John from Rolling Pin in Owensboro has been the declared THE best signature dish from a local restaurant here in western Kentucky.  That donut took out the chopped mutton from Old Hickory Bar-B-Q in the regional final and some other big contenders along the way.  If you want to check out the original bracket of 32, which was built using nominations from the public, CLICK HERE!
Now, in our final round of voting, that Chocolate Long John will have to take down another "sweet" giant!  Our Regional Champion from southern Indiana is the Oatmeal Creme Pie from Be Happy Pie Company.  Like the Rolling Pin, the Be Happy Pie Company took out some juggernauts in the Menu Madness tournament bracket.
So, that leaves us with just two dishes- our Kentucky champion and our Indiana champion.
And it's time to vote for YOUR favorites!  One of them will be declared THE best dish from a local restaurant here in the Tristate.
Voting is open now and runs through 11:59pm CST on Sunday, April 2nd. Our voting coincides with Final Four Weekend in the NCAA Basketball Tournament. The college basketball national championship game is Monday, April 3rd- the same we declare our Grand Champion!  We'll announce our winner on Monday morning.
So, happy voting!
CHECK IT OUT: See the 100 most popular brands in America