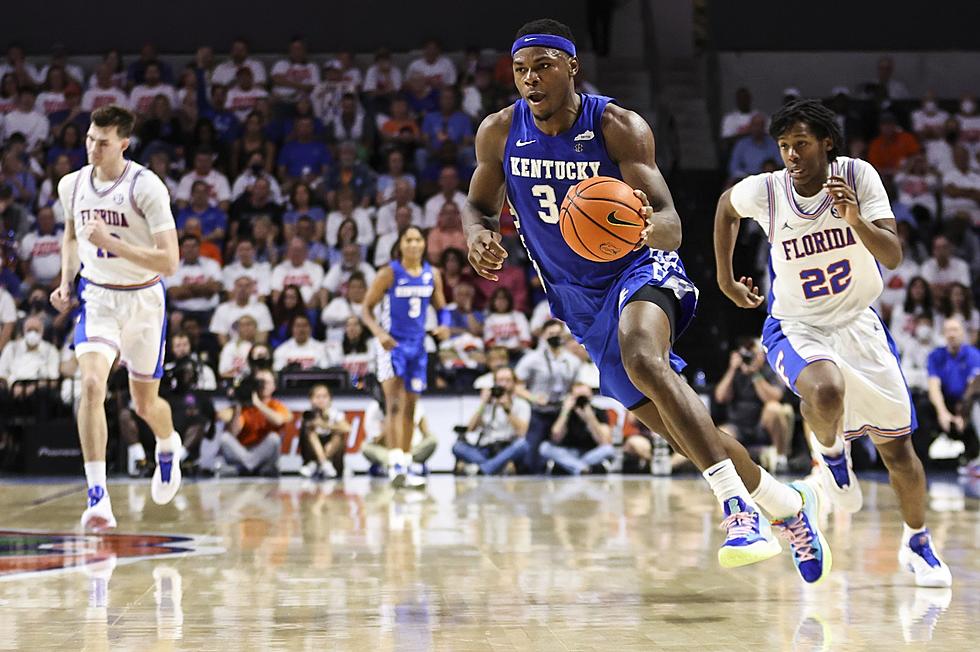 STATE LAW: Kentucky Student Athletes Can Now Earn Money Off Their Talent with NIL Passage [VIDEOS]
James Gilbert/Getty Images
Kentucky coaches and student athletes gathered in Frankfort today as Governor Andy Beshear announced the passage into law of the NIL (Name, Image, and Likeness) Bill.
KENTUCKY STATE LAW -- NAME, IMAGE, LIKENESS
Representatives from basketball and football teams from around the Commonwealth were on hand to hear the announcement and celebrate something that, among others, University of Kentucky hoops coach John Calipari has been behind 100% since its introduction in 2021. It's a game changer.
JOHN CALIPARI ON THE NIL LAW
The coach recently spoke on NIL before Kentucky lawmakers. Hear his thoughts beginning at the 1:15 mark:
Those who have always charged Calipari with taking too full advantage of "one-and-done"--wherein players are eligible for the NBA draft after one year of college--are off the point just a bit. Calipari takes full advantage of whatever the "next big thing" is. Whether it's getting the best high school players to come to UK for one year before becoming pros in the league (hey, I'm not a fan of it either) OR taking advantage of the transfer portal and loading up your team with instant experience, Calipari is on it.
But all he's wanted is to make sure his players--his "kids"--are set up to make a great living doing what they love. With NIL, they start doing that right away. NIL also would seem to make it easier for great players to put off the draft. Yes, I get it--guaranteed millions in the League versus your face on a Lexington billboard advertising a furniture store.
UK'S BIG O COULD BENEFIT IN A BIG WAY
That's admittedly an oversimplification, but what if someone like rebounding savant Oscar Tshiebwe can clean up on endorsements immediately? And for Big O, that ball has already started to roll.
Maybe he MIGHT want to stick around another year. He loves Kentucky, its fans, the Caliparis, and he's excited at the thought of being able to get his mother over here from his native DR Congo. His entire attitude exudes positivity. SIDE NOTE: did you know he's also a part-time preacher?
GOVERNOR BESHEAR CONGRATULATES THE UK WOMEN'S TEAM
Governor Beshear also congratulated the Kentucky women's team on their thrilling run through the SEC Tournament, culminating with a buzzer-beating win over the No. 1 team in the country, South Carolina. On the women's side, it's UK's first tourney championship since 1982.
WHY BELLARMINE CAN 'T GO TO THE NCAA TOURNAMENT
Bellarmine head coach Scott Davenport was also present. His team just won the Atlantic Sun Conference Tournament but cannot get the automatic bid to the NCAA Tournament that comes with it; a silly rule prohibits it since the Knights are only in their second year of Division I basketball.
A HAT TIP TO MURRAY STATE FOR A PHENOMENAL SEASON
Naturally, there was a shout-out to 30-2 Murray State. The Racers capped off an extraordinary season with a win over Morehead State in the Ohio Valley Conference Tournament in Evansville's Ford Center. Beshear was also quick to point out that TWO Kentucky schools made that final game; the OVC is comprised primarily of schools outside the Commonwealth.
It was great to see Kentucky's universities represented for this exciting announcement.
I said earlier that it was a game changer. I hope I'm right. I also hope it's an overall game IMPROVER.
30 famous people you might not know were college athletes
Stacker
dug deep to find 30 celebrities who were previously college athletes. There are musicians, politicians, actors, writers, and reality TV stars. For some, an athletic career was a real, promising possibility that ultimately faded away due to injury or an alternate calling. Others scrapped their way onto a team and simply played for fun and the love of the sport. Read on to find out if your favorite actor, singer, or politician once sported a university jersey.