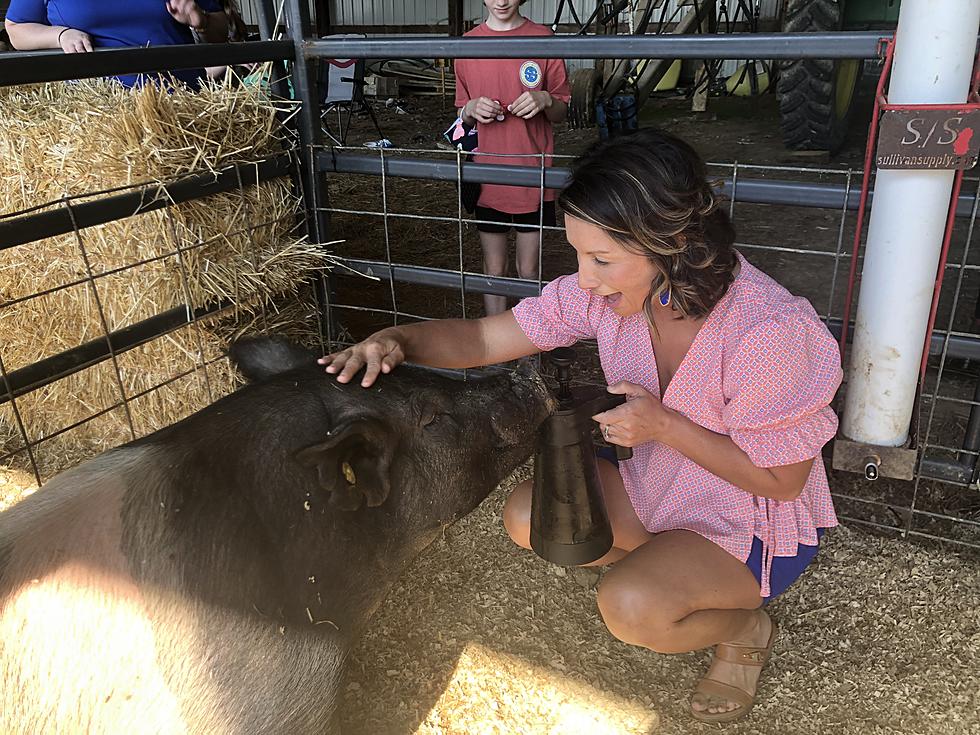 Luttrell Farms Celebrates Its 25th Anniversary of Ohio County Ag Days (Video)
ASHLEY S
Luttrell Farms in Ohio County celebrated a huge milestone this week.  They have been hosting Ohio County Ag Days for 25 years teaching kids all about a variety of all things Agriculture.
Ag Days are a partnership between Luttrell Farms and the 4-H Extension Office of Ohio County.  Angel here and I have been visiting Ag Days for four years now.  On my first visit to the farm, I snuggled a little piggy.  Ok, so I didn't exactly snuggle him it was more like I chased him and picked him up and he squealed very loudly until I put him back down.
4th Graders have the opportunity to do all the following:
The Food Journey from Farm to Table:  They learn about various fruits and vegetables and how important they are to our health.
Soybeans:  Kids learn about how soybeans are grown and how good they are for you.
ATV/Lawn Mower/Tractor Safety:  Vehicles are put on display and the students learn safety while operating each one.
Soil Erosion:  The soil erosion station shows how important using conservation methods are for today's farmers.
Trees:  Learning about the many uses of trees.
Bees & Honey YUM:  A buzzing talk about bees and how they are so valuable to our society.
Grain Safety:  Helping kids understand that grain bins are not a safe place to play and how very dangerous they are.
All the Chicks:  Perdue farms talks about all things poultry and what a baby chick needs to grow.
Petting Zoo:  The kids get to meet a cow, horses, goats, and two sweet piggies.
Farm Toys:  Luttrell Farms has over 1 million dollars of modern & antique farm equipment.
Electrical Safety:  All about the dangers of electricity.
I had a great time visiting Ag Days and hanging out with Farmer Luttrell.  You better believe when the time comes next year I will be making the drive to visit Luttrell Farms.
Luttrell Farms Hosts 25th Annual Ohio County Ag Days
JACKSON'S ORCHARD HOSTING APPLEFEST
It's almost time for all things Fall. Jackson's Orchard in Bowling Green is preparing for a big ole' Apple Fest this weekend with lots of apples, concessions, and so much fun.
Reid's Orchard Adds Their Own Petting Zoo To The Farm
Reid's Orchard is one of our family's favorite places to just go and hang out whether we're picking apples or playing in Reidland. I recently visited and they had some cute new furry faces.
Glowing Jacks Family Pumpkin Patch Opened In Philpot This Weekend
The Raymer family from Philpot has always loved pumpkins and decided why not make it a family affair and start their own pumpkin patch.