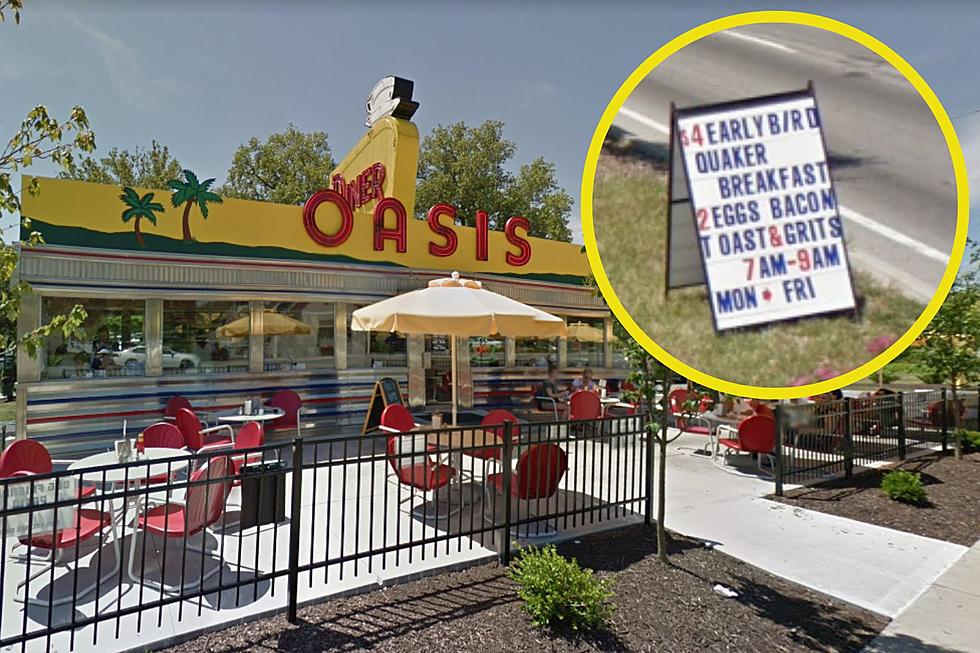 One of America's Best Diners is Just 2 1/2 Hours From Evansville, Indiana
Photo: OASIS DINER PLAINFIELD, IN GOOGLE MAPS
It's hard to believe that the Mayor of Flavortown, Guy Fieri has not featured one of America's best diners that is located in Indiana. In fact, Diners, Drive-Ins & Dives has only been to 9 locations in Indiana. Perhaps someone needs to get Guy on the phone about this one.
Welcome to Plainfield, Indiana
Honestly, when I think of Plainfield, Indiana, I immediately think of the prison, and to not pick up hitchhikers off of the highway in that area. Seriously, it's on a road sign. I also think about the week that I spent there at the Indiana Law Enforcement Academy to get my 911 dispatcher training. We weren't offered the luxury of eating lunch off campus, so I don't even remember seeing Oasis Diner. That is quite unfortunate since it happens to be one of America's Best Diners.
Indiana's Best Diner Stands Out in the Crowd
Just because a diner or restaurant is named 'The Best' doesn't mean that there isn't competition. Right next to Oasis Diner there is a Dairy Queen, and right across the street is the popular breakfast spot, Flapjacks.
414 W Main St. Plainfield, Indiana 46168
According to LoveFood.com Oasis Diner is the Best Diner in Indiana. Here's what they had to say about the iconic restaurant:
Oasis Diner makes its own sodas – and they're delicious. It's just one of the things that sets this cute and colorful spot apart from the competition. Another is its obsession with lunch. Not just serving it, but honoring a part of its history, with a display of vintage tin lunch boxes filling the shelves (and bearing illustrations of everything from ET to Pac-Man). Throw in some wonderfully comforting and classic diner food and a TV playing old sitcoms, and it's pretty much guaranteed to brighten your day.
New Location, Same Delicious Diner
It didn't always look so cute. Oasis Diner went through major renovations and even changed addresses to stay up to code. The new owners brought the original design from the 1950s back.
Take a Delicious Journey Along These 21 Indiana Food Trails
According to the Wall Street Journal, the
Indiana Foodways Alliance
has the MOST food trails in America. Taste the very best that Indiana has to offer when it comes to breakfast, lunch, dinner, and everything in between. Plan to visit some or all of these yummy stops all throughout the Hoosier state.
The Definitive Evansville Area Food Truck Guide
We are very lucky to have such a wide variety of food trucks serving the Evansville area. This list contains the majority of the food trucks that we love.