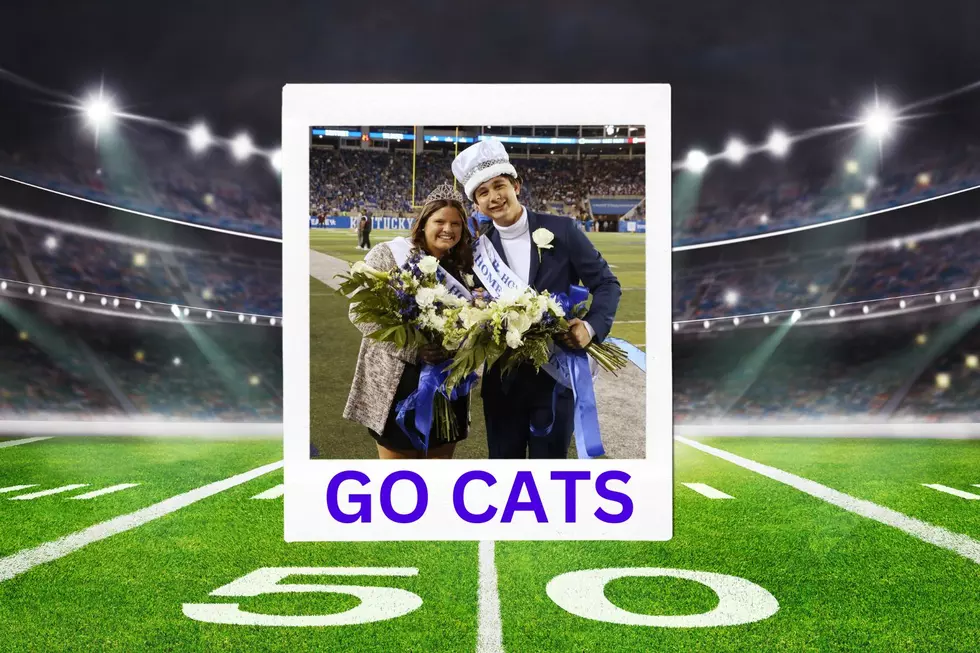 Owensboro's Grace Bush Was Crowned UK's Homecoming Queen – GO CATS
UNIVERSITY OF KENTUCKY FACEBOOK
The University of Kentucky's long-running tradition of crowning a Homecoming King and Queen happened this weekend and the new queen is from right here in Owensboro!
UK'S 107-YEAR HOMECOMING TRADITION
The University of Kentucky has worked hard to make Homecoming Week special for all those who participate.  It is a time for the entire campus of UK to plan super fun events for all to take part in.  In fact, over 10 different events were planned throughout the week according to uknow.uky.edu including;
Swag Cab-which gives students a chance to hop in and win prizes.
Homecoming Showcase
Annual Mo'Betta Basketball Game
Homecoming Pics in the Plaza
CaterDIY
Awards Luncheon
DanceBlue Silent Auction
National Panhellenic Step Show
Wear Blue Friday
Brunch
Campus Bus Tour
Tailgating
Game
This video is from the 100th Year Celebration;
CROWNING A NEW HOMECOMING QUEEN
If you know Grace Bush you know she is pure class through and through.  I have known her personally since middle school.  For most kids, middle school is that weird almost awful phase where you're adjusting and kind of a jerk to everyone but not Grace.  She has always been absolute sunshine.
This past weekend she was honored in the most perfect way and crowned the University of Kentucky's Homecoming Queen for 2022.
I had the opportunity to ask Grace all about the process of being crowned and here's what she shared with me;
The process is approximately a month long. First, student organizations nominate two candidates. I was nominated by DanceBlue, in which I serve as the Overall Chair. After receiving a nomination, there is a formal application and interview. Following the interview, the Homecoming Court of 5 king candidates and 5 queen candidates are selected. We compete in a royalty showcase that includes a question and talent. Finally, voting is opened to students and a final score is determined from a percentage of the interview, talent, and student votes.
If you're wondering what her talent was she made lemonade and gave a DanceBlue fundraising pitch.  Grace is the Overall Chair for DanceBlue.
DanceBlue is a University of Kentucky student-run organization that fundraises year-round and culminates in a 24-hour no sitting, no sleeping dance marathon. The money raised through DanceBlue is donated to the Golden Matrix Fund, established to support the kids of the DanceBlue Kentucky Children's Hospital Hematology/Oncology Clinic both today and well into the future through an endowment.
Check out Grace's pitch;
Grace is also a member of Chi Omega and currently pursuing dual bachelor's and master's degrees in public health on the pre-physician assistant track.
Without further ado let us introduce the 2022 Homecoming King, Johnny Zelenak II &  Queen, Grace Bush.
Congrats, Grace!
We had the opportunity to interview Grace on the morning show;