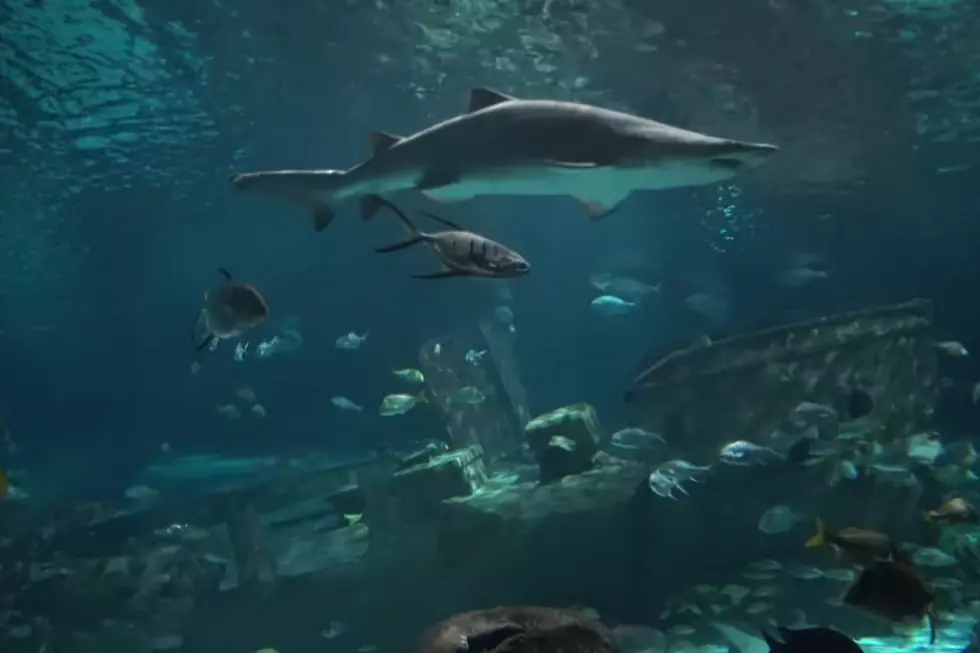 How Does a Tour of Tennessee Aquariums Sound as a Vacation Idea? [VIDEOS]
In the Loop via YouTube
Someone once said to me, "Well, if you've seen one zoo, you've seen them all." I responded with, "Not true...not CLOSE to true."
I went to the Nashville Zoo several years ago but was unimpressed with the infrequency with which I happened upon the animals. That may have changed, but at the time, there were long stretches between enclosures. And there were NO gorillas. And that's what I wanted to see.
So a week later, I went to the Louisville Zoo, and, sure enough, LOTS of gorillas. Their gorilla sanctuary is very impressive.
I'm thinking the same thing applies to aquariums (no gorillas, of course), and if you're a fan, Tennessee has you covered.
A TOUR OF TENNESSEE AQUARIUMS...BUT LET'S START IN NEWPORT, KENTUCKY
Now, you may be asking why I'm leaving out Kentucky. Well, I won't. I will tip my hat to the Newport Aquarium in northern Kentucky and then tell you that that is about it for aquariums in Kentucky.
I've never visited, but, by all accounts, THAT is a big mistake on my part.
RIPLEY'S AQUARIUM OF THE SMOKIES IN GATLINBURG
I HAVE visited the Ripley's Aquarium of the Smokies and WAS duly impressed.
The Ocean Realm and Shark Lagoon were my favorites, but do not forget to enjoy the Glass Bottom Boat Adventure while you're there. Speaking of sharks, you'll only be floating inches away from them on this exciting excursion. And, of COURSE, there's always room for penguins.
So, yeah, my guess is that the aquariums in Newport and Gatlinburg are the first ones that leap to mind, but don't stop there...especially if you're making a VACATION out of aquariums.
TENNESSEE AQUARIUM IN CHATTANOOGA
You would want to add the Tennessee Aquarium in Chattanooga (not a long drive at all, all things considered) to your itinerary. Yes, it's an aquarium, but it's more about aquatic life. So, in addition to what you'd find UNDER the water, you'll see what hangs out AROUND the water--like the North American river otter, the macaroni penguin, and various species of birds, reptiles, and butterflies.
From what I've heard, Mississippi Delta Country & the River Giants is an attraction at the Tennessee Aquarium you do NOT want to miss.
MEMPHIS ZOO AND AQUARIUM
Now, let's head to Memphis and to one of the most acclaimed zoos in the country. "Wait a minute," you say, remembering we're here to discuss aquariums. Then I say, "Yes, but this is the Memphis Zoo AND Aquarium." So you get the best of everything.
THE AQUARIUM RESTAURANT IN NASHVILLE -- YES, IT COUNTS
Finally, I'm going to bend the "rules" ever so slightly because we haven't covered anything in Nashville, but that's because Music City--for ALL of the wonderful things you can do there--does not have an aquarium like the ones we've discussed. But it DOES have an Aquarium Restaurant. It's in Opry Mills.
I can tell you that I HAVE dined "under the sea." The food was excellent, but I actually think the super-cool atmosphere made it taste even better.
So how does that sound as a vacation plan? An aquarium tour of Tennessee with a great dinner to finish it off.
There is NOTHING like traveling in the summertime. Enjoy.
Take A Look Inside Ripley's Aquarium in Gatlinburg
When vacationing in Gatlinburg it is a must that you visit
Ripley's Aquarium.
Here are the Top 3 things our family enjoyed the most during our visit.
Dive With Sharks At This Missouri Aquarium
You don't have to drive to the ocean to live on the wild side and swim with sharks. In fact, you could just drive to Missouri.