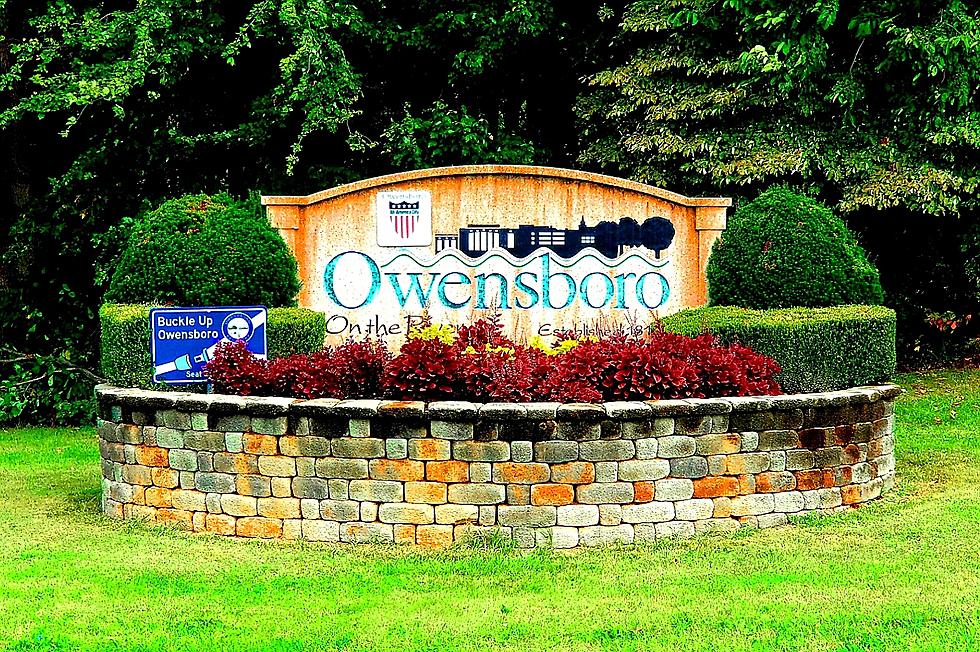 The Two Other Owensboros Outside of Kentucky
Dave Spencer/Townsquare Media
When I was a kid, on a trip to Jekyll Island, Georgia, we came upon a town called Louisville. I was only 11 years old and it threw me. "Wait a minute...Louisville is in Kentucky, not Georgia." That was me.
The welcome sign and the people who lived there would have begged to differ. And actually, there are MULTIPLE Louisvilles across the country. I came across another one just north of Omaha in Nebraska back in 2011.
Colorado, Mississippi, Tennessee, Illinois, and Ohio can also boast towns named "Louisville."
THE OWENSBORO IN GEORGIA
But only ONE other state can lay claim to being the home of a town named "Owensboro." And--what do you know--it's ALSO in Georgia. And, lest you think, "Why did Georgia take all our city and town names?", first...it doesn't work that way, and second...Georgia was here first.
In our last census, Owensboro FINALLY moved past the 60,000 milestone and, in fact, I believe the city's population is up past 61,000. The same CANNOT be said for Owensboro, Georgia. And it's not close.
Located in Wilcox County, Georgia--population 8,739 according to the latest figures from the U.S. Census Bureau--Owensboro is an unincorporated community.
DOES OWENSBORO, GEORGIA EVEN HAVE A POPULATION?
There's a website with an eerie name called VanishingGeorgia.com, and it gives information and displays images from small communities that may or may not be incorporated. These pictures are usually of old rundown barns or vacant homes and are quite eerie but also beautiful in their own way. That's what you'll find on Vanishing Georgia's Owensboro page. This is one of those images posted on Owensboro, Georgia's Facebook page, which had a fair amount of activity until 2017.
I couldn't find much else about the tiny town of Owensboro, Georgia, but in nearby Abbeville--the county seat--there's a wild hog festival and it's held every year in May. The reason? There's a large wild hog population in Abbeville. Why not celebrate?
THERE'S A THIRD OWENSBORO...SORT OF
Now, going into this, I was aware of only one other TOWN named Owensboro, besides ours. But there is a THIRD "Owensboro." Or, I should say, WAS.
It's in Pasco County, Florida and there's a page from Fivay.org that goes into great detail about Owensboro. I mean a lot has gone on here for it to be as obscure as it apparently is. There was a post office, a rail line, and a school. It was actually called Owensboro Junction, but its name changed to the very Florida-sounding Trilacoochee, also an unincorporated community.
I wonder if those other Owensboroans have ever been to this Owensboro. To be honest, after seeing the pictures I've seen, I wonder if the other Owensboro still HAS Owensboroans.
13 Reasons Why You Should NOT Move to Owensboro
You're planning to move to Owensboro? Well, if you hate good barbecue, exciting Friday nights on the river, or close proximity to major cities, you'd better think again.
READ ON: How to Tell You're from Owensboro
Here's how to tell me you're from Owensboro without telling me you're from Owensboro.
The Owensboro Landmark Hall of Fame
I call this my PERSONAL Owensboro landmark hall of fame because these buildings or locations have meant a great deal to me over the years, for a variety of reasons. To be completely honest, some are on this list NOT because of what they are now. Take a look...