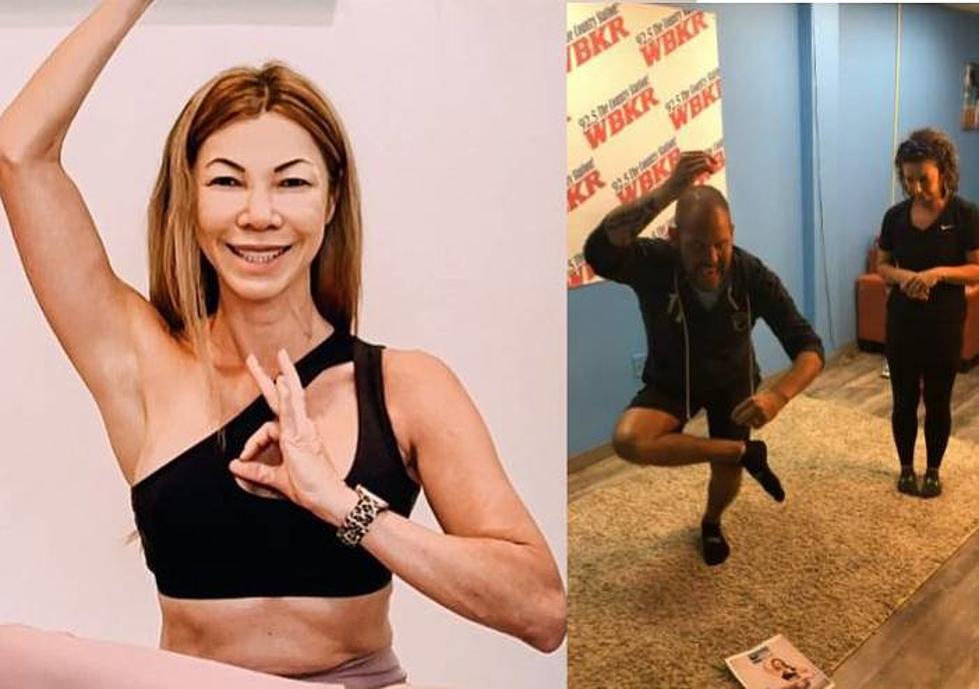 You Really Shouldn't Try These Crazy and Extreme Yoga Poses at Home
Thi-ly Hayes/WBKR
Wacky Wednesday is back here at WBKR and Angel and I invite you to join us each Wednesday morning at 9am on Facebook Live.  Each week, we'll attempt some random science experiment or physical challenge that you and the family can try at home with the kids or that you and your friends can try some weekend after a few adult beverages.
Look!  We are fully aware that neither one of us is graceful.  Angel is, arguably, THE clumsiest person I know.  I can't say much either.  While I am not clumsy, I basically have no "center."  Seriously.  I can't ride a bicycle and take my hands off the handlebars.  Can't do it.  I also can't roller or ice skate.  It's a recipe for self-destruction and death.
This week, we pushed ourselves to the limits of balance.  We were inspired to try some incredibly extreme yoga poses that have been mastered by my friend Thi-ly Hayes.  Kevin and I met Thi-ly and her late husband, Peter, years ago in Mexico and have remained friends since.  Recently, Thi-ly has been sharing photos of herself in these insanely challenging yoga poses.  And she rocks them out.
So, for this week's Wacky Wednesday installment, our first of the Fall, we decided to see if we could rock 'em out too.   The verdict?  Was it rock?  Or did we roll?  LOL!  See for yourself.
Angel and I created Wacky Wednesday early in the pandemic when kids weren't attending school in person and many parents were at home working remotely.  The idea was to give them some fun activities and challenges to try together at home.  Over the course of the last year and a half, there have been some highlights and some hysterical lowlights.
A couple of months ago, we tried to smash watermelons with our thighs.  Yes, I know.  It sounds ridiculous.  And it was.  But we did it!!

Here's another fun one. We tried the No Hands Makeup Challenge. I must say- I don't think Angel has ever looked better. LOL!
Join us each Wednesday morning on the WBKR Facebook page.  We go live at 9am with a fun challenge.  Sometimes we win.  Sometimes we lose.  But we always, always have a Wacky Wednesday morning and you're invited to laugh right alongside us.
KEEP READING: See 25 natural ways to boost your immune system
KEEP READING: 15 Natural Ways to Improve Your Sleep