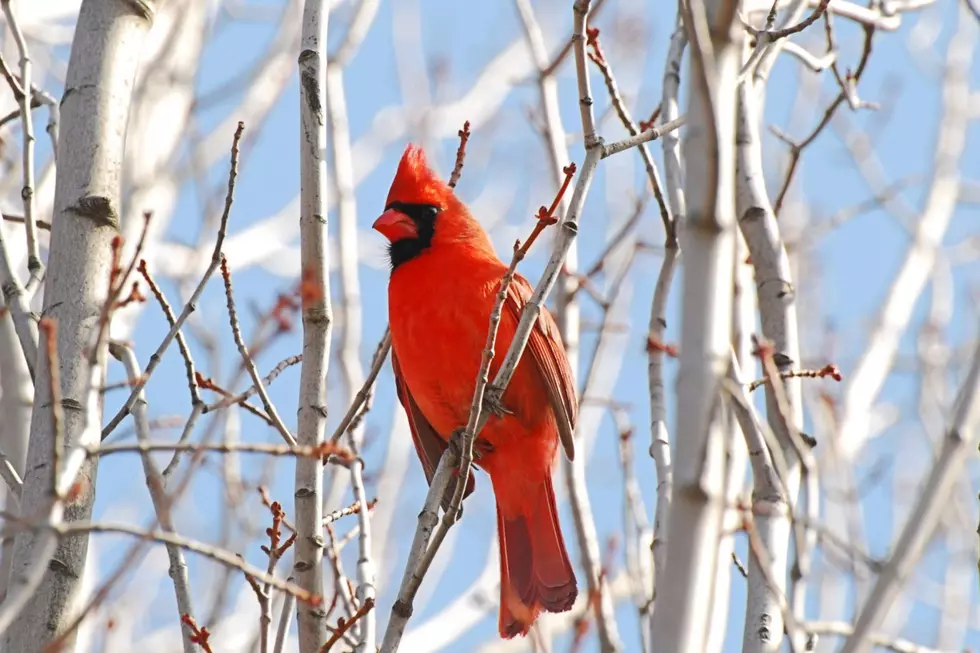 What Does It Mean When You See A Cardinal? We Found Several Answers
CANVA
Everyone has their own thoughts and symbolism behind the beautiful red bird.  I took a deeper dive into what it actually means when you see a cardinal.
RED BIRDS HOLD A SPECIAL PLACE IN MY HEART
For as long as I can remember my grandmother loved red birds.  She never called them cardinals always red birds.  I didn't find out until I was an adult that my momma was the one that started her love for them.  She bought her a ceramic figurine and from then on Grandmother adored them.  In the center room or sewing room of my Grandparent's home, there was a fireplace with a mantle and there sat all of her red birds given to her over the years.  She loved to show them off.  Over the years seeing a red bird always reminded me of my precious Grandmother and how very much I was loved by her.
I found out later in life that people have lots of meanings for these beautiful birds.
WHAT EXACTLY DOES IT MEAN WHEN YOU SEE A RED BIRD?
First things first, in case you didn't know here's how to tell if the red bird is female or male.  I was shocked to find out the answer.  The females are actually not as vibrantly colorful as the male red birds.
FEMALE RED BIRD
MALE RED BIRD
Now that we've cleared that up we can move on to meaning and symbolism.
I was always told when you see a cardinal it is a lost loved one visiting you from heaven.  Apparently, this is a very common belief among many people.  When I found this meaning out it didn't mean much to me because at the time I had never lost anyone close to me.  The first loved one I lost was my daughter, Kathern.  That is when the meaning of the red bird began to take on true significance.  It never failed when I would be at my most grief-stricken times a red bird would find its way to me whether it was perched on a window seal or resting in the trees I would spot it and immediately smile thinking of her.
According to thayerbirding.com here's the spiritual meaning;
The word "cardinal" is Latin, derived from "cardo", which means hinge or door. As a result, the bird serves as a physical portal between the spiritual world and the Earth, with the mission of sending messages between the two.

 
Did you know that cardinals mate for life?  This brings even more meaning to me as my grandparents were married 64 years before my granddaddy passed.  They had the truest love I have ever seen.
Thayerbirding.com says;
Their connection with their partner is amicable, joyful, and healthy. In difficult times, both the female and male cardinals lovingly sing duets, calling similar tunes to each other.   If a person in a serious relationship sees the red bird of marvels, they might anticipate their partnership to rekindle a romance. On the other hand, the presence of cardinals reminds those who have been dishonest in their relationships of the importance of monogamy.
Have you ever seen a cardinal in your dreams?  Well, here's what to know if you do;
If you catch a glimpse of cardinals while you are asleep, it may be a sign from the gods telling you to be genuine to yourself.The message is persuading you to abandon what you are not and you should pursue your path of happiness. It also indicates that a phase in your life is coming to an end, and it is time to prepare for the new era.
Of course, it is totally up to you to interpret it how you feel necessary.  I will always think of the red bird as a lost loved one visiting because it makes me happy and lets me be close to them even if for a moment.
15 Pieces of Marriage Advice To Keep Close To Your Heart
Whether you've been married two months or ten years this marriage advice from a variety of couples will be incredibly helpful for those times you need it most.