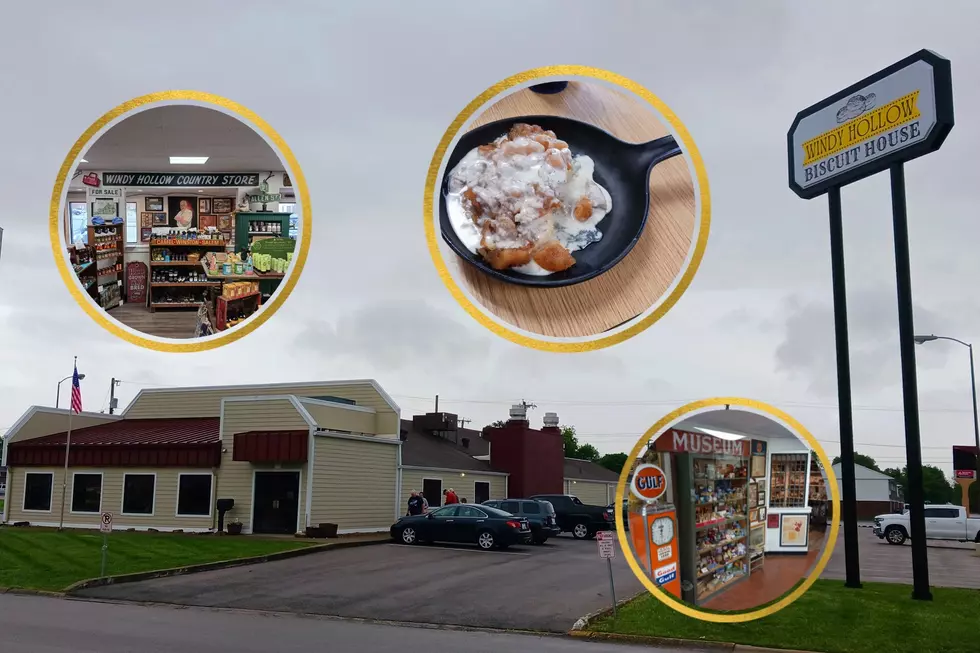 Windy Hollow Biscuit House Opening Soon in Owensboro, KY – Sneak Peek Pics
Dave Spencer/Townsquare Media; Canva
If you've lived in Owensboro all your life--or even just LONG enough--the name "Windy Hollow" probably brings a smile to your face. It certainly does to mine.
THE ICON THAT IS WINDY HOLLOW
It is a local icon and dates back to way before I was born, and I'm very familiar with both incarnations--the original rustic old place at the top of the hill next to the lakes and the subsequent location on Highway 81 that became the new Windy Hollow home after the fire. And, of course, it's that second location and the museum on Windy Hollow Road that became famous nationwide after an American Pickers spotlight:
WINDY HOLLOW AND THE AMERICAN PICKERS
Well, now it's happened. For the first time since the beginning of the Windy Hollow organization, the legendary restaurant has expanded into a second location--the Windy Hollow Biscuit House--and it is almost open.
But not to worry...the old location will still be open on Sunday mornings into early Sunday afternoons for breakfast. And that's great. I'm sure everyone still wanted the original to stick around. I know I did, and do. Soon after the American Pickers finished buying all the stuff they wanted, I got a chance to speak with owner Evelyn Miller about their visit:
WINDY HOLLOW BISCUIT HOUSE IS OPENING SOON
I've been doing that my whole life; in fact, Windy Hollow is a part of my DNA. I can't TELL you how many times my family has visited Windy Hollow Lake for a day-long getaway. Even though the Miller family no longer runs the lake, it's still "Windy Hollow" through and through as far as I'm concerned.
And now, we'll be able to have that good old hometown feeling--and devour all that good food in a second location, 630 Emory Drive.
Get a sneak peek of the all-new Windy Hollow Biscuit House and some delectable goodies below. As you'll see, some of those cool vintage items were brought out of storage from the old museum.
Enjoy.
Inside the All-New Windy Hollow Biscuit House in Owensboro
Owensboro Restaurants We Miss the Most
These restaurants are no longer in Owensboro and we them BACK!
Kentucky Restaurants and Bars Featured on National Television
Kentucky has been well-represented on a number of television series, and not just on Diners, Drive-Ins and Dives. Check out the list: