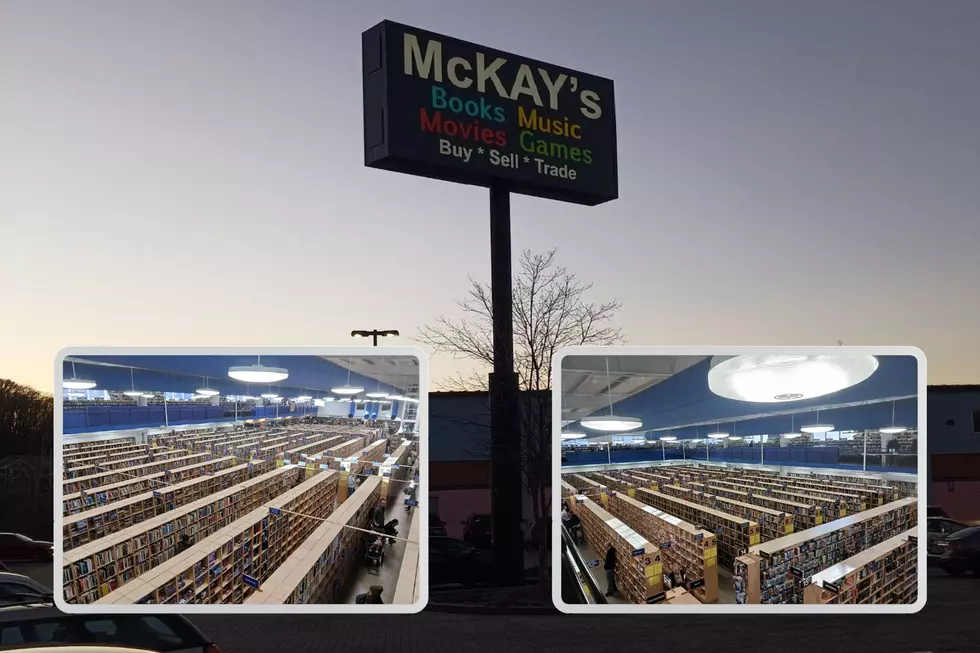 This Tennessee Hidden Gem Shouldn't Be So 'Hidden'…It's Enormous
Dave Spencer/Townsquare Media; Canva
I'm not sure when you can apply the term "hidden gem," so I've come up with my own condition. And it's pretty simple. If enough people to whom you've described said "gem" have never heard of it, then I think you can say it's a "hidden gem." And with that, I'll stop using quotation marks.
Sometimes hidden gems might truly be hidden--as in, they are so physically small or out of the way that that is the best way to describe them. Then you might have something gigantic that--referencing the above paragraph--nobody's ever heard of. And that's where I step in and enlighten the masses.
Immediately west of Nashville proper, there is a bookstore that I have visited too many times to count. And it's not just used books; you'll find music, video, and electronics as well. It's called McKay's. And I think it should be listed as a tourist attraction; it is ALWAYS packed. But I suspect that it's always "packed" with locals. So let me spread the word about this amazing discovery of mine and my sister's about a decade ago.
And speaking of discoveries, I've made a lot of great ones at McKay's...and not just the one in Nashville. I also hit the jackpot at McKay's in Winston-Salem NC in 2018, finding a couple of movies I'd had a hard time locating anywhere else...including online. The other three McKay's Bookstores are in Chattanooga, Knoxville, and Greensboro NC. The one in Winston-Salem isn't nearly as big as Nashville's, so maybe the Music City store is the biggest. Regardless, it's the CLOSEST and comes highly recommended by yours truly.
Row after row after row of used books covering every category you could imagine. There also bargain basement books that sell for as low as five cents. I have, legit, thrown some of those in my basket without reading the description on the back cover. I mean, I'm only out a nickel; if it's not interesting, it's not exactly like I've gone broke.
In the music section upstairs, you will find the most extraordinary selection of CDs and vinyl records I've ever seen. Most impressive. For a collector, I'd call it hitting the jackpot.
Also, if you have any old books, music, or jigsaw puzzle--those are, somehow, super hot items--take them to McKay's for store credit. My sister just spent all of hers in December after building it up for something like three years. No kidding, she hasn't spent actual cash there in this decade. What's more, she bought one of my Christmas presents there that day, right under my nose. And yes, I need to segue from that to THIS very cool decoration at the entrance.
McKay's Bookstore & Record Store is located on Old Hickory Boulevard off Interstate 40. Head west on the Briley Parkway from Interstate 65 when you get to Nashville. Then take 40-West from the Briley. You'll turn right at the bottom of the ramp when you get to the correct exit.
Enjoy...and carve out enough time. You'll be there a while.
PICTURES: See 10 Historical Music Sites to Visit in Nashville
Nashville is the home of country music, and the city is rich with the history of the genre. Scroll through below to see the most important historical music sites to visit while in Music City.
Books that Have Recently Been Challenged in School Systems Across the US
Across the country, legislators and school administrators are seeing a spike in efforts to prohibit certain materials from being available in libraries. As a result, books that explore topics such as race, gender, sexual orientation, and other social issues are being targeted. The
American Library Association
received over 330 reports in the last year alone, containing multiple books that are being challenged all over the U.S.
Check out the following gallery to see some of the books that are currently in hot seats across the country.
Click on the below links to read an additional synopsis of each book. *As Amazon associates we earn on qualifying purchases.
10 Must-Read Country Music Books Released in 2022
Need some new reading material? Take a look at these 10 essential country music books released in 2022.