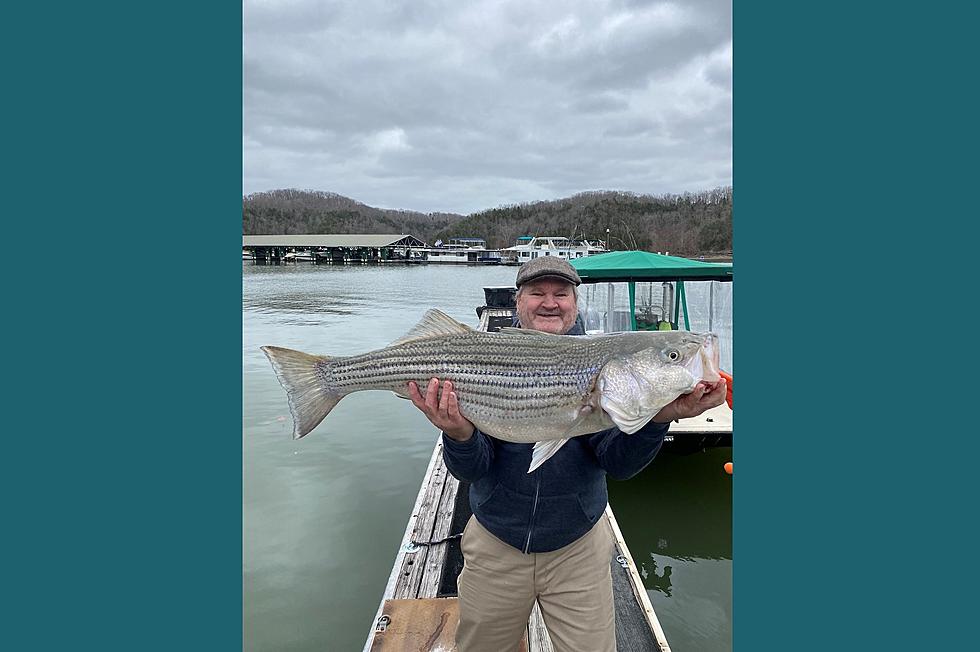 Huge Striped Bass Are Biting at Lake Cumberland in Eastern Kentucky…One of Many Reasons to Visit
Kentucky Department of Fish and Wildlife Resources/Facebook
Suddenly all the fish in and around Kentucky are enormous. Or maybe it's not so sudden; I don't fish so it could be a normal thing. But I've not previously heard about so many huge fish as I have in recent weeks.
BIG FISH IN KENTUCKY
Last month, a couple of anglers landed a 95-pound catfish in the Ohio River. And now large striped bass are biting at Lake Cumberland State Resort Park. Somebody needs to get a hold of Jeremy Wade, the host of Animal Planet's canceled series River Monsters, and tell him to get his butt to Kentucky.
HUGE STRIPED BASS AT LAKE CUMBERLAND...LOTS OF 'EM
While you could hardly call a striped bass a monster, in the way the series does, they are pretty big at Lake Cumberland and they are pretty plentiful. Says the Kentucky Department of Fish and Wildlife Resources:
"Population sampling conducted by Kentucky Fish and Wildlife staff last fall showed the highest number of striped bass over 25 inches ever recorded from Lake Cumberland."
WHAT TO DO AT LAKE CUMBERLAND AFTER A DAY OF FISHING
And once you've enjoyed a day of fishing--and a pretty good workout, from the looks of it--there are so many ways to unwind and relax at Lake Cumberland State Resort Park. I mean, seriously, I could just stare at this for hours on end.
GET A 'CLUE' AT LAKE CUMBERLAND
Through the end of April, Lake Cumberland State Resort Park is hosting a "Clue" Scavenger Hunt, which sounds like a total blast.
EASTER DINNER AT LAKE CUMBERLAND
Additionally, since Easter is right around the corner, you might want to remember that the Lake Cumberland State Resort Park's restaurant will be open for in-person dining, but reservations are required.
There's also disc golf, boating, swimming, camping, and--my favorite--vegging out. But first, bag that striped bass; you just CAN'T leave Lake Cumberland without a good fish story.
RANKED: Here are the most popular national parks
To determine the most popular national parks in the United States, 
Stacker
 compiled data from the 
National Park Service
 on the number of recreational visits each site had in 2020. Keep reading to discover the 50 most popular national parks in the United States, in reverse order from #50 to #1. And be sure to check with individuals parks before you visit to find out about ongoing, pandemic-related safety precautions at 
www.nps.gov/coronavirus
.
LOOK: Stunning vintage photos capture the beauty of America's national parks
Today these parks are located throughout the country in 25 states and the U.S. Virgin Islands. The land encompassing them was either purchased or donated, though much of it had been inhabited by native people for thousands of years before the founding of the United States. These areas are protected and revered as educational resources about the natural world, and as spaces for exploration.
Keep scrolling for 50 vintage photos that show the beauty of America's national parks.