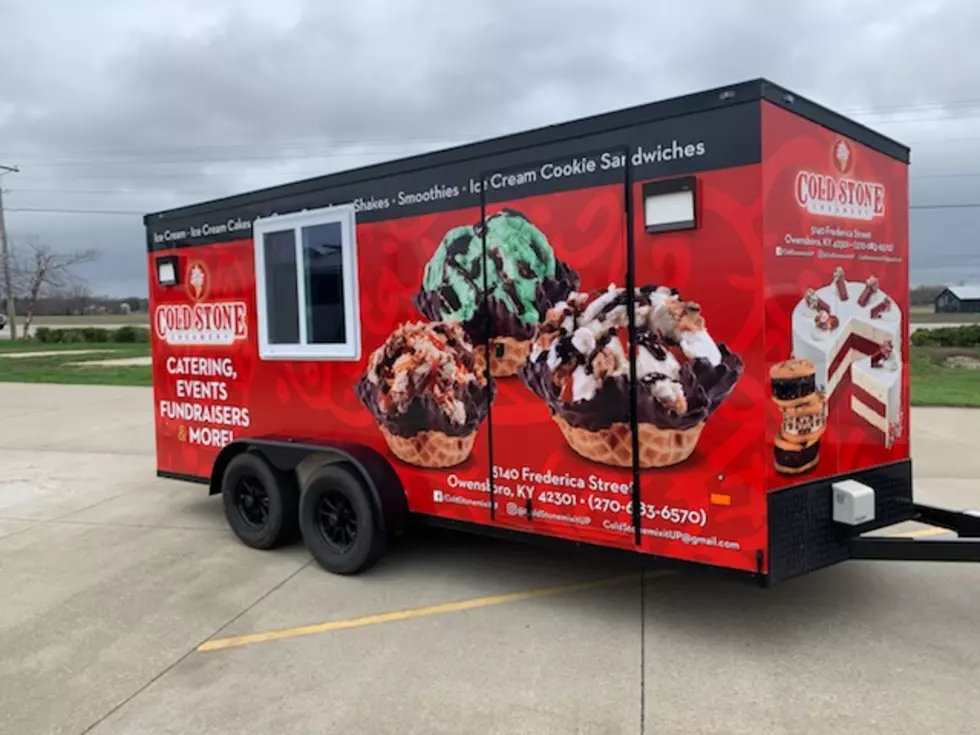 New Ice Cream Catering Truck Rolls Into Owensboro
Barb Birgy/WBKR
We've got the scoop about a brand-new mobile Cold Stone Creamery catering truck that will be hitting the streets of Owensboro soon. They'll be churning out the ice cream treats at Friday After 5, weddings and other events.
We'll take it and dish it out! Just cover me in chocolate syrup and pink sprinkles...... Cold Stone Creamery has a brand-new catering mobile. This would be so cool to rent for a party or wedding. There are so many great food trucks in town and this is a nice addition to the menu.
Luc Bowman took to social media to make the announcement. "We are excited to announce this to the community of Owensboro and the surrounding areas. Thanks to all the help I've had along the way. We are about 85% done with this build. Book us for private events & Fundraisers & Weddings & any events you would like our services at! See you guys soon!! Last Sneak Peak until it's fully done!"
I had the chance to talk to Luc when he was out and about with the new trailer. He said that they're booked for Friday After 5, hopefully Romp, and some other upcoming events. After they closed the Cold Stone Creamery in Downtown Owensboro, the owners knew that this would be their next big adventure. I think it would be a great way to wrap up a wedding reception. A great late night snack to finish a happy event.
The Cold Stone Creamery location on Frederica Street is still open for business. And, in the next few weeks, you'll starting seeing the brand-new catering mobile truck around town too!
Owensboro is Getting a Cold Stone Creamery Mobile
LOOK: 15 Discontinued McDonald's Menu Items
What Are the Signature Drinks From Every State?