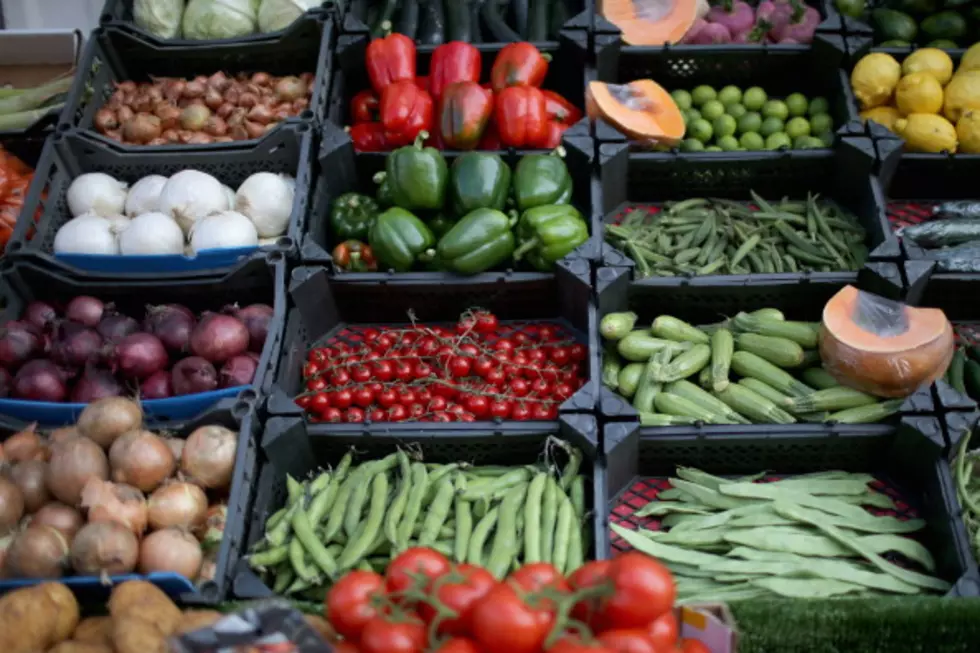 Owensboro Regional Farmer Market Vendor List (PHOTOS)
(Photo by Christopher Furlong/Getty Images)
The Owensboro Regional Farmers' Market is set to open for the season this Saturday and we have the list of vendors signed up to participate for the 2021 season.
They will be opening Saturday, April 17, from 8 a.m.-12 p.m.  There are guidelines set in place for entering and exiting the market among other things.
Here is the vendor list for the Farmers' Market if you would like to purchase items before Saturday.  These farmers are local.
A Taste of Home Baked Goods Baked Goods
A Tasty Bite of Europe European Style Food - Prepared
A&G Garden Center Vegetables & Plants Anchor Bakehouse Baked Goods, Jams, Jellies, Preserves, Crafts, Apparel, and Plants
Big Turkey Foot Coffee Roasted coffee
Bittel Heritage Meats LLC Pork Products, Pumpkins, Sweet Corn, & T-shirts
Blueberries of Daviess County Blueberry jam, baked goods, blueberry lemonade, sunflowers, vegetables, plants, dog treats, cookies, cobbler, snow cones, coffee, bread & honey
Bluegrass Grazing 100% Grass-fed beef, lamb & pasture raised pork & chicken. Honey and Duck eggs
Boucherie Winery Wine, Soup & Slushees Browns Valley Vineyard Grapes and Cut Flowers
Catherines Café Baked Goods, Jams, Jellies, Preserves & Canned Goods
Cecil Farms Produce LLC Wide Variety of Produce, Flowers, Plants, Herbs, Honey and more Cottage Farm Stand Baked Goods, Cheese, Jams, Jellies, Preserves, Canned Goods, Honey, Plants & Cut Flowers
Dalisha's Baked Goods, Chicken Salad & Pimento Cheese
David Montgomery Produce Vegetables, Nuts & Plants
Dakota Edge Vegetables, Plants and Fall Décor
Fishers Family Farm Vegetables (Micro-Greens) & Plants
Gina Newton Vegetables, Fruit, Nuts, Baked Goods, Eggs, Jam, Jellies, Preserves, Canned Goods, Plants, Chicken Salad, Broccoli Salad & Pimento Cheese & Cheese Dip
Goat Ridge Farm LLC Goat Milk, Soaps, Lotions, Lip Balm, Body Wash, Goat Milk Carmel, Baked Goods & Canned Goods GoldenRed SunFlower Vegetables, Fruits, Nuts, Eggs, Jams, Jellies, Preserves, Plants, Honey, Baked Goods, Cut Flowers, Canned Goods & Crafts
Hillview Farms Beef, Pork, Chicken, Milk, Cheese, Sweet Corn, Vegetables and T-shirts
Hodges Curbside Creamery Ice Cream
Jake's Run Farm Vegetables, Fruit, Nuts, Baked goods, Jams, Jellies & Preserves
King's Country Gardens Fresh Cut Flowers, Herbs, Bulbs, Plants & Bouquets Kissingtree Gourds & More Gourds, Vegetables, Fruit, Nuts, Crafts & Plants
Mad for Macarons Macarons, cake pops, small cakes Martin Family Farm Vegetables, Fruit & Nuts
Mile Wide Beer Company Craft Beer & Apparel
Misty Meadow Winery Wine, Vegetables, Fruit, Nuts, Baked Goods, Crafts & Honey
Ms. Jenny's Veggies Vegetables, Plants & Crafts Nikos Bakery Baked Goods, Edible Oil and Spices
Paw Paw & Chance Vegetables
Reid's Orchard Vegetables & Fruits
Riney Farms Vegetables, Honey & Plants
Seymour Farms Vegetables, ready to eat salads and sandwiches.
Southern Secrets Baked Goods & Apparel
Squeeze-E's Fresh Squeezed Lemonades
Trunnell's Farm Market Fruits, Vegetables, Honey, Flowers, Herbs, Jams & Jellies, Salsa, Sweetbreads, Dough Bread, Turnovers, Succulents
The Farmers' Market is located at 1205 Triplett Street in Owensboro.
If you would like to be a vendor at the market here's where to apply.
Meet the vendors who provide goods for the market week after week.