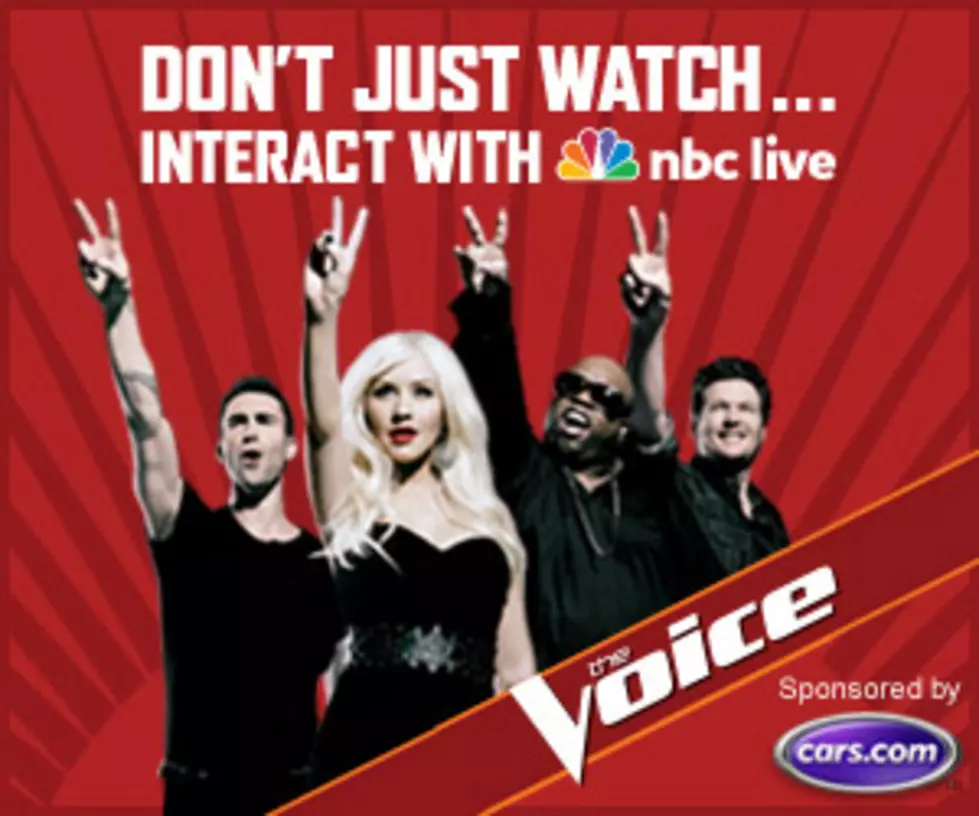 You've seen the commercials!  You've seen Blake Shelton, Christina Aguilera, Adam Levine and Cee Lo Green join forces on the song "Crazy!"  Now, The Voice is set to make its debut on NBC!  A lot of folks are wondering just how the latest talent show to hit the airwaves is going to work.  Well, your boy, Benefield, did some diggin' and I'm ready to Voice what I found out!
As you guys know, there are four judges on the show.  And they represent a wide variety of musical styles and genres.  We have country's resident wise-ass, Blake Shelton, who promises to offer up hilarious comic relief.  I'm a huge Blake fan and can't wait to see what rolls out of that boy's mouth! 
We also have Adam Levine, the frontman of Maroon 5, who knows a thing or two about having a "distinct" voice. (By the way, in case you haven't heard, Maroon 5 is playing the KY State Fair this year!  With Train!)  There's Christina "I Don't Know The Words To The National Anthem" and "Spent The Last Few Months Being Publically Intoxicated" Aguilera.  And then there's Cee Lo Green . . . the man who figured out how to make the F-bomb the hook of the catchiest song in years!  **I think even my grandfather knows the words to Cee Lo's "F You!"  I'm pretty sure he'll break it out on harmonica at our next family holiday and that's going to be slightly awkward.
So, here's the deal . . . the judges on The Voice will sit with their backs to the contestants.  If they like what they HEAR, they'll be able to spin their chairs around and SEE what the contestants look like.  Each judge will build a team of 8 singers.  But, there's one tiny catch.  The contestants actually get to choose which judge they want to work with.  For instance, if Blake and Christina want to mentor the same contestant, the contestant gets to choose which judge has a better chance of making him/her The Voice.
Now, in the 2nd round of competition, each judge will have to narrow his/her roster of 8 contestants down to 4.  And to do it, they'll use challenges, pick out songs for their contestants to sing, give style and image advice and monitor progress, etc.  The contestants that continue to grow as potential artists will get to stay on the show.  The rest will get the boot.  Or as Cee Lo would say the big . . . well, nevermind!
And, here's some even better news for all you tv talent show freaks (like me!!).  The producer of The Voice is Mark Burnett.  Does that ring a bell?  It should.  He's the creator of Survivor, the show that truly put reality tv on the primetime map.  He knows how to make people watch the tube!   And he also knows that a lot of folks refuse to watch American Idol because the first month or so on THAT show, is spent glorifying folks who have no talent at all.  On The Voice, nobody sucks!  EVERYONE can sing!  (Can we get an Amen?!!)  Sorry about your tone-deaf luck, William Hung!  My ears are still recovering from your version of "She Bangs!"
The Voice promises to give us enormous voices and amazing talent.  As a matter of fact, Burnett has made room for contestants who've had previous recording deals, tour dates, and experience on other tv talent shows.  Don't be surprised if some of them look familiar.  Rumor has it through the grapevine that several Idol castoffs have found a new show to compete on!