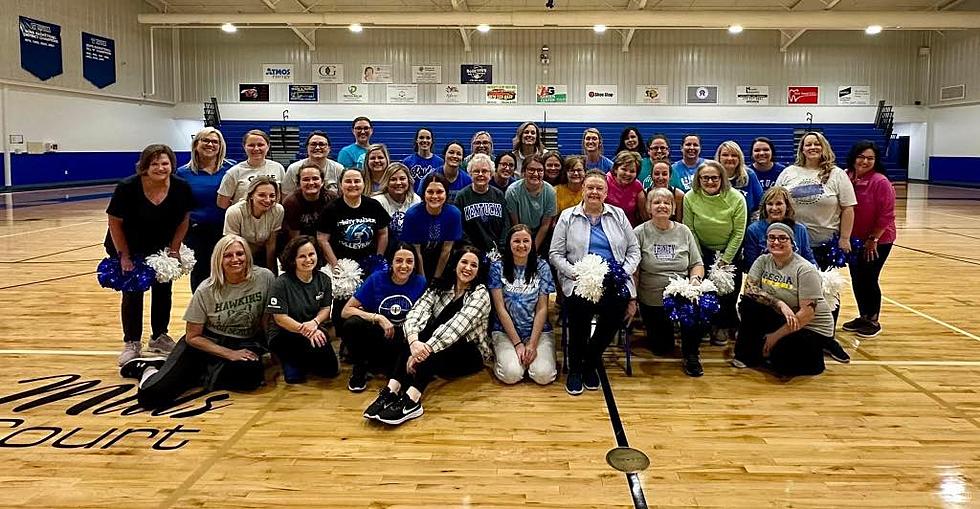 Former Cheerleaders and Dancers Reunite for Special Performance at Kentucky High School
Debbie Connor
They've been busting the proverbial moves for a couple of weeks now. As a matter of fact, the ladies you see in the photo had their second practice on Tuesday night. They're gearing up for a really big performance!
This Saturday night, former cheerleaders and dancers from Whitesville Trinity High School are going to reunite on the gym floor and give an alumni performance for the friggin' ages!
My friend Debbie Connor, who coaches the current crop of Trinity Raiderettes, has been helping the ladies lace up those dancing shoes, fluff those pom poms and rekindle those flames from their glory years. The ladies are going to storm the floor at halftime Saturday during the alumni championship basketball game.
That alumni tournament got underway last night and there are six teams competing. By Saturday night, the bracket will have been narrowed down to two teams, who will square off for the championship and bragging rights. During halftime, the ladies are going to take center stage as former cheerleaders and dancers reunite for special performances.
Debbie says 29 cheerleaders have come back to perform as well as 19 dancers. Those dancers certainly have a great coach in Debbie.  And they have a pretty awesome choreographer too. Debbie wrangled the help of Kyra Rowan, who danced for Debbie at Daviess County High School. The Pantherettes' run under Debbie is pretty much legendary at this point. Yeah, they won multiple national titles and Kyra was on each championship team.  She's now dancing on the national team at the University of Kentucky.
Under her direction, the former Raiderettes will be taking the floor to perform to Ciara's "1, 2 Step."
The cheerleaders have been working on their own routine too. One of the highlights to look out for is Peggy Clark. Peggy will be the oldest cheerleader on the floor and she'll be joined by her four daughters, all of whom followed in their mother's footsteps and toe touches at Trinity. Emily Shelton, Natalie Mayfield, Susan Roby and Jennifer Pedley will join their mom (and the other cheerleaders) in that special halftime performance. According to Debbie, Peggy will be proudly representing the Trinity High School Class of 1969!
Peggy's daughter Emily says, "Yes! My 71-year-old momma will be on the floor shaking her booty!" Emily admits preparing for the big reunion has been really fun for her and her mom. "She has had a ball! And there are quite a few who are just a year younger than she is!"
A couple of dancers go way back too. Debbie says a couple date back to the Class of '89!
Here's Debbie talking about how much fun it's been to get back together and work on the alumni routines.
The alumni championship game is set for 7pm, Saturday, March 18th at Trinity High School.
Old Daviess County and Owensboro Schools and What They Are Now
Of the many old schools in Owensboro and Daviess County, some are still active, while others have been repurposed.