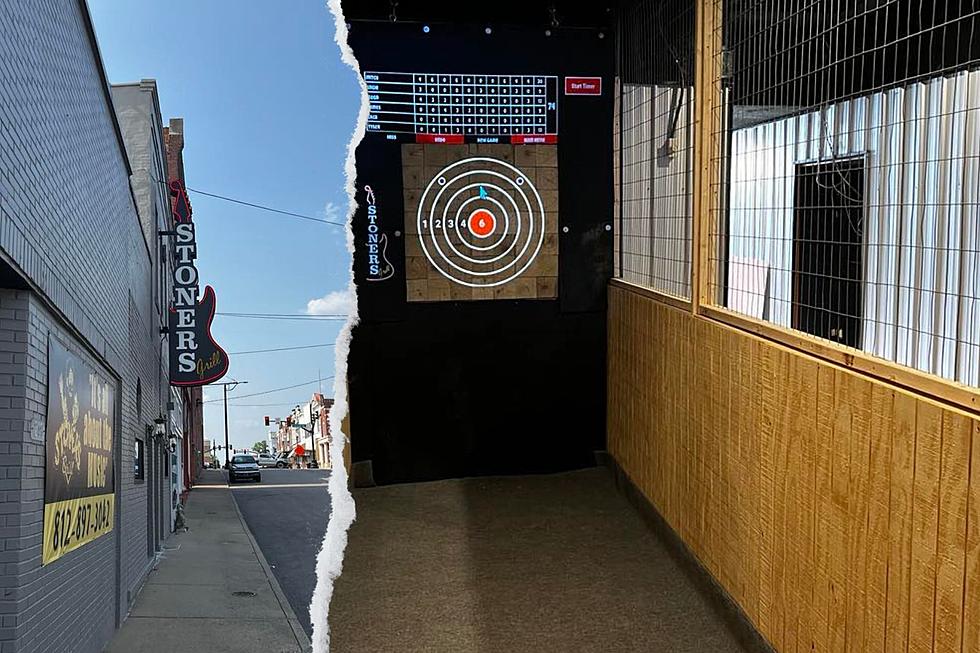 Warrick County, Indiana's First Axe Throwing Range Opening Soon
Travis Sams/Canva
Warrick County will soon have its first-ever axe throwing range coming soon and it looks awesome!
The sport of axe throwing has become wildly popular over the past few years. It's something that I have done a few times in the Evansville area. Gathering your friends together to throw an axe at a target, when put like that, might not sound too exciting, but let me tell you...it's so much fun!
As you know, we have a few axe throwing facilities in the Evansville/Owensboro area. Each is unique in its own right. Now, we are about to have another one opening soon and it will be the first-ever axe throwing range in Warrick County. I got to test it out first-hand last night. Trust me when I say, you and your friends are going to LOVE it!
Warrick County's First-Ever Axe Throwing Range
Stoner's Grill in Boonville will be expanding by adding a new attraction...which as you probably have guessed...axe throwing. The new axe throwing range features four different lanes. Stoner's Grill axe throwing will officially be open on Fridays and Saturdays starting on June 9th.
Stoner's Grill Axe Throwing Games
These axe throwing lanes are for ages 21+, and waivers are required for participation. There are several different games that you can play when you are at the axe throwing lanes. Each of them is fun and different. One thing is for sure, no matter which game you choose, it will be some fun competition. Here's a look at the different games you can play:
Duck Hunter
Tic-Tac-Toe
Merry Axe-Mas
Bottle Axe
Lineup-Four
Zombie Hunter
Standard Target
Important Info on Booking Lanes
Lanes can be booked online. The cut-off for online booking is 1 hour prior to the session start. Walk-ins are welcome on a first-come, first-served basis – based on lane availability. Stoner's Grill does not accept phone reservations for regularly offered sessions. If you would like to reserve the entire arena for a private party or other function, please call 812-897-3042. Axe throwing sessions are credit/debit card only.
Duration:
1 hr 15 min each $20/player + tax + convenience fee
Fridays and Saturdays
6pm-7:15pm
7:15pm-8:30pm
8:30pm-9:45pm
9:45pm-11pm
OR
2 hr 30 min each $40/player + tax + convenience fee
Fridays and Saturdays
6pm-8:30pm
8:30pm-11pm
Closed-toe shoes are required for participation. That means no flip-flops. Arrive 5-10 minutes early. If you are more than 15 minutes late for your session, you may not receive your full hour of axe throwing. Your session begins AFTER the safety training and instruction are completed.
No Smoking or Vaping in Axe-Throwing Area. Smoking and Vaping are allowed in the bar area or outside. There will be servers around who will attend to your beverage needs. If you want to order food, please visit the bartender in the bar area.
As I said earlier, I was able to test out the axe throwing lanes before Stoner's Grill opened them to the public. It was so much fun. The axe throwing facility is very nice and pretty high-tech. I definitely plan on going back with my friends to have some fun and hopefully show them who's boss when it comes to axe throwing.
How To Tell Someone You're From Warrick County Without Saying You're From Warrick County
There are several ways to tell someone where you're from without actually telling them where you're from. Let's take Warrick County for example.
7 Weapons You Can Legally Own in Indiana That Aren't Guns
Anything can be a weapon if used as such. Large rocks, baseball bats, golf clubs, hammers, etc., etc. However, those objects aren't designed to be used as weapons. These seven, on the other hand, are, and you are completely within your rights to have them in Hoosier State.
10 Indiana Laws You Don't Know You're Breaking