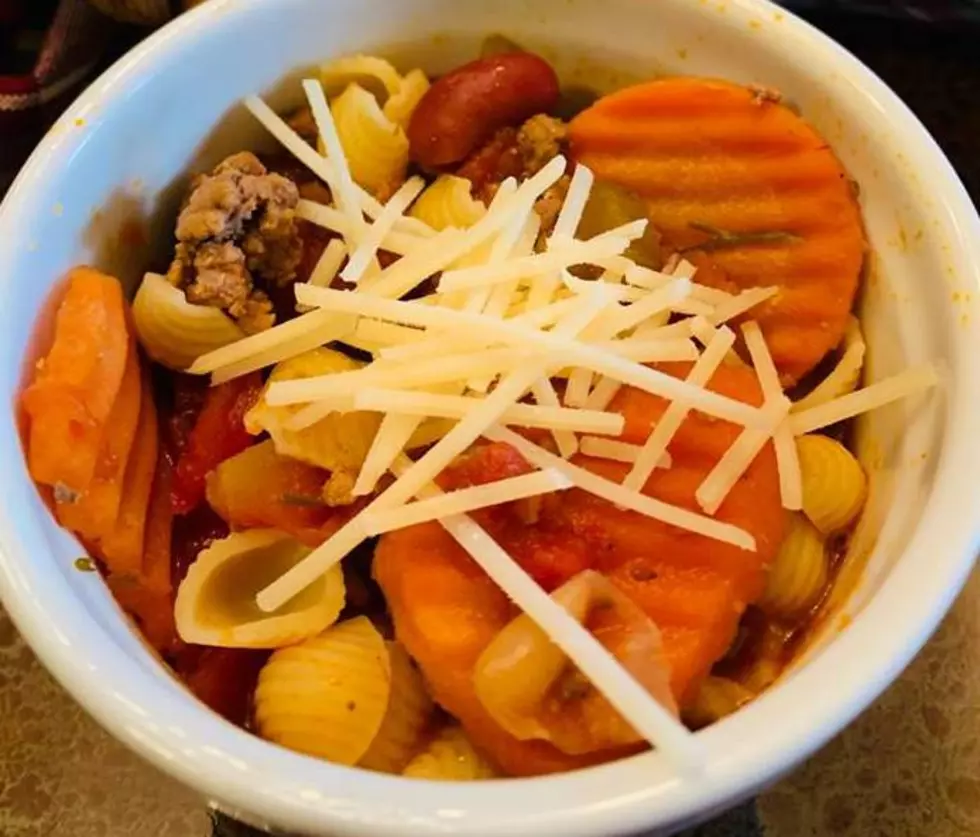 What's Cookin'? Patty's Pasta Fagioli Soup [RECIPE]
Patty Millay
It's a brand new year and we're kicking off 2019's What's Cookin' series with one of our favorites!  Patty Millay is back and, this month, she's sharing a delicious crock pot recipe that offers up a taste of Italy in a bowl.   Here's her slow cooker recipe for Pasta Fagioli Soup.
Never in my life would I have thought of using spaghetti sauce in soup but this intrigued me and man was it a HIT!  Just a handful of ingredients and very economical!  15 minutes of prep time then 6 hours in the crockpot.  That's it!  This recipe is very close to a soup served in a wildly popular Italian restaurant chain.  I took a few short cuts and they paid off big time!  I can't wait to make this again!
1 pound extra lean ground beef, browned and drained
1/2 cup onion flakes
1 cup chopped carrots
½ cup chopped celery
1 can (14 to 15 ounces) diced tomatoes with juice
1 can (14 to 15 ounces) kidney beans, rinsed and drained
1 can (14 to 15 ounces) white beans, rinsed and drained
4 -6 cups beef broth
1 jar (24  ounces) tomato-basil marinara or pasta sauce
1-1/2 teaspoons oregano
¾ teaspoon hot pepper sauce (such as Tabasco)
½ teaspoon salt
½ teaspoon black pepper
1-1/4 cups dry pasta (Small shells work well), cooked separately according to the package directions.
¼ cup chopped fresh parsley, optional for serving
Grated Parmesan, optional for serving
Stir together the cooked and drained ground beef, onion, carrots, celery, tomatoes, beans, broth, pasta sauce, oregano, hot pepper sauce, salt and pepper in a 6 to 7-quart slow cooker.
Cover and cook on LOW for 5 to 7 hours, or until the vegetables are as tender as you like them.
When ready to serve, stir the cooked pasta into the soup.
Taste the soup and adjust the salt and herbs to suit your tastes.
Serve with grated  Parmesan and a sprinkling of fresh parsley if desired.
This is easily made in the morning before work or even popped into the crockpot at lunch for dinner at 6:00 p.m.  The cheese really sets the final note for this soup.  Serve with oyster crackers, saltines or a buttered baguette.  It's warm, wonderful and super easy!  Ya'll enjoy!!!