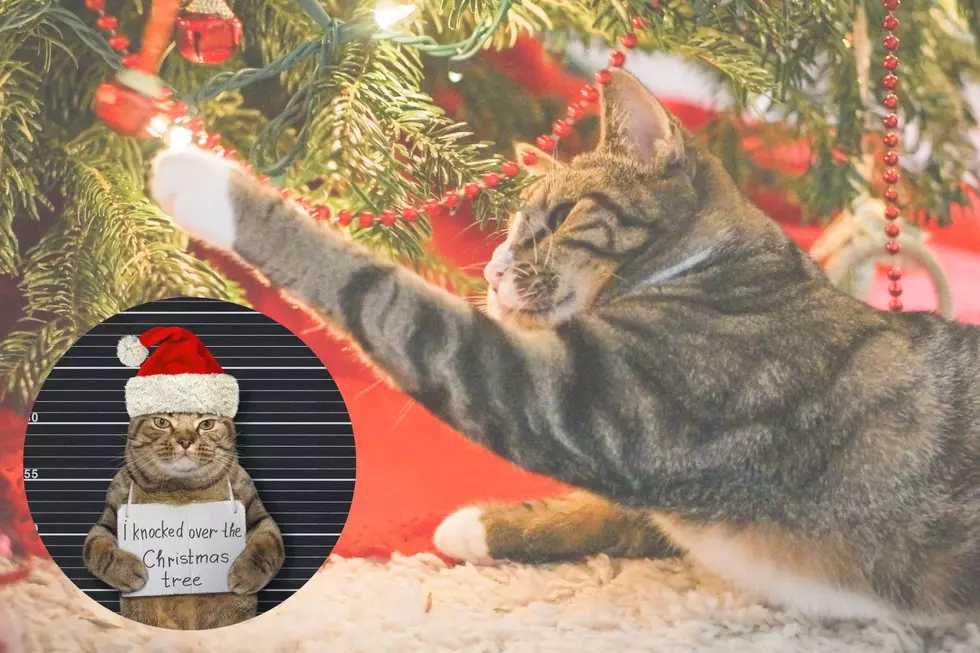 SEE: 3 Hilarious Ways To Keep Your Cat Or Dog Out Of The Christmas Tree
CANVA
Is your four-legged BFF destroying your precious Christmas memories one by one?  Here are some of the best ways to keep your animals away from your tree.
WHY ARE CATS AND DOGS SO AMUSED BY CHRISTMAS TREES?
Most people think that cats and dogs just want to destroy their Christmas trees, but that isn't the case.  Your animal is most like amused with all the pretty lights and beautiful ornaments as much as you are but they don't know any better not to touch or play with them.  Think about a cat and a tree full of hanging ball ornaments.  Our brand-new kitten is in heaven with our tree.  I have caught her in it more times than I can count.  Not only is she getting herself into trouble but she has recruited our doodle, Lilly, too.  Tootsie, the kitten, knocks the ornaments down and Lilly thinks they are a toy for her to play with.  So far this year we've had about 10 ornament casualties to be exact.
3 REAL WAYS TO KEEP YOUR ANIMALS OUT OF YOUR TREE
I think most of us who have had to deal with destroyed ornaments or knocked-over trees are willing to do whatever it takes to keep the animals away from the tree.
We've found a few ways to keep them at bay so you can make it through the holidays in peace, not pieces!
Use a dog gate or fence to section your tree off.  Now, this won't necessarily work for the cat but if you have a dog like ours that is constantly picking ornaments off the tree this will help fix the issue.  If you can keep the tree in a room with a door this may be the best solution or keep the cat up while you're gone.
Use a deterrent.  There are several different types of spray that you can spray on the tree to make it taste bitter so the animals avoid chewing on the ornaments.
Avoid ornaments or tree decorations that sparkle and shine.  They are so appealing to your animals.  I know that takes all the fun out of decorating the tree but if you want them to stay at bay then you may want to keep the sparkle to a minimum.
And finally, if you must decorate your tree and your dog is going to be near it try and keep keepsake ornaments at the top of the tree and buy cheaper ornaments for the bottom of the tree.
SOME HILARIOUS WAYS PET OWNERS KEEP ANIMALS AWAY FROM THEIR TREE
Lock that thing up!  You kennel a dog when it's bad why not kennel a tree?
Are your animals terrified of the vacuum?  My dogs scatter when I pull it out of the closet.  These pet owners are genius-LOL.
This next one took some work but I bet it worked.  Unless they can walk on walls they aren't getting this tree.
Why do cats have whiskers? Why do they meow? Why do they nap so much? And answers to 47 other kitty questions:
Why do they meow? Why do they nap so much? Why do they have whiskers? Cats, and their undeniably adorable babies known as kittens, are mysterious creatures. Their larger relatives, after all, are some of the most mystical and lethal animals on the planet. Many questions related to domestic felines, however, have perfectly logical answers. Here's a look at some of the most common questions related to kittens and cats, and the answers cat lovers are looking for.