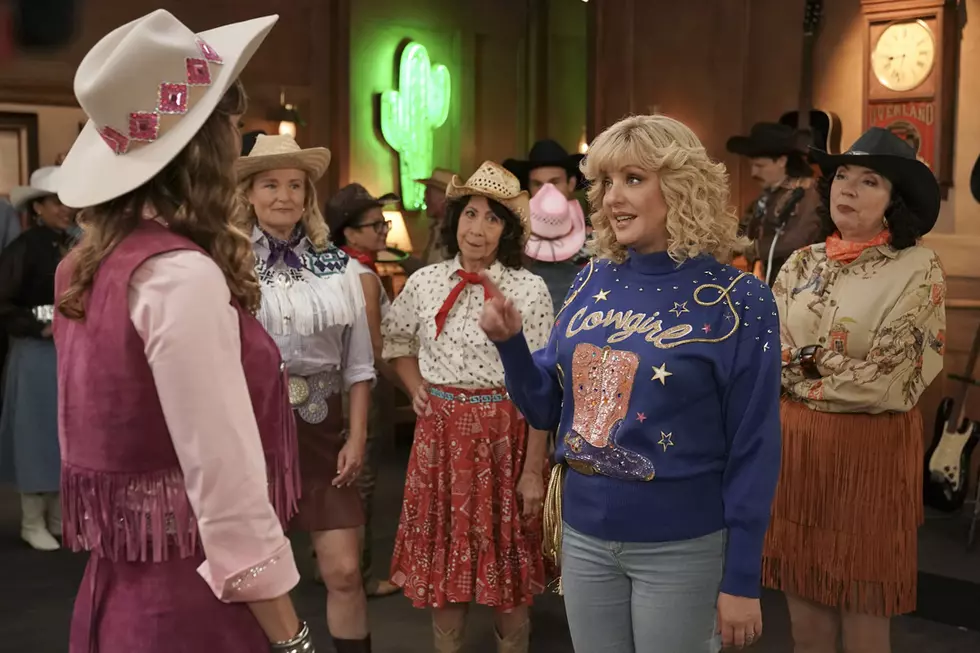 Television's 'The Goldbergs' Are Set to Go Country [Exclusive Photos]
ABC / Scott Everett White
Wednesday night's (Nov. 2) episode of The Goldbergs will find the ABC family at a country and western bar, line dancing. Exclusive photos shared first by Taste of Country recall the glory of 1980s country music and the early line dancing craze.
Beverly Goldberg (Wendi McLendon-Covey) can be seen throughout the four photos shared here. The new episode — titled "Rhinestones and Roses" — finds her feeling a bit sensitive about her age and role as grandmother, so she heads to a country-western bar to reclaim her youth.
The Goldbergs airs on Wednesday nights on ABC at 8:30PM ET and then on demand on Hulu the next day.
Goldberg neighbors and friends Ginzy (Jennifer Irwin), Linda (Mindy Sterling) and Essie (Stephanie Courtney) are also featured in these pictures, as is Jane Bales, as played by Erinn Hayes. The photo below finds Beverly with comic Mark Sipka, who is playing an emcee during the episode.
Longtime fans of the show, the Jenkinstown family and country music will appreciate the throwback to a time when rhinestones were fashionable, not just a cheeky nod to a more flamboyant past. While it's never really stated which year the Goldbergs live in, one immediately thinks of artists like George Strait, Reba McEntire and Randy Travis when they think of '80s country music. We've included a list of our favorite '80s country songs below.
See 50 Essential '80s Country Songs
It's 50 country songs from the 1980s, from 50 different 80s artists. Check out this list of essential 80s country music, curated by the Taste of County team.