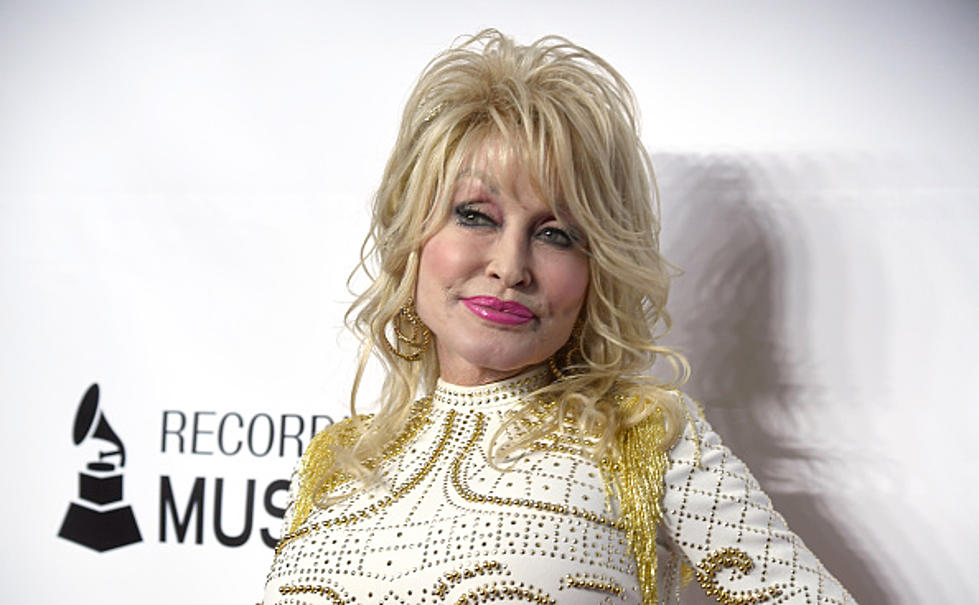 Does Truvy's "Cuppa Cuppa Cuppa" Recipe from Steel Magnolias Work?
Frazer Harrison/Getty Images
Yes, I know.  This is a completely random question.  And, yes!  I know.  It's SO twenty-three years ago.   Do you remember the movie Steel Magnolias?  I'm sure you do.  Dolly Parton played a hairdresser named Truvy and, at a certain point in the film, she gets asked about one of her famous recipes.  That recipe is called Cuppa Cuppa Cuppa.  Olympia Dukakis' character, Clairee, wants Truvy to give her the recipe and Truvy says, "You don't need a recipe.  It's just a cup of flour, a cup of sugar and a cup of fruit cocktail with the syrup.  Stir and bake in a hot oven until golden brown and bubbly."  So, Thursday morning on the WBKR Waking Crew, Nashville Kat, Moon and I wondered . . . does this REALLY work?
Now before we find out for sure, I think I have to tell you how all this came about.  Nashville Kat, who is an amazing cook in her own right and recently released a cookbook called The Happy Husband's Cookbook, called in to tell us about a couple of recipes she nabbed from Miranda Lambert.  One was for this . . .
Corn and Macaroni Casserole
1 (15.25 ounce) can whole kernel corn, with liquid
1 (14.75 ounce) can cream style corn
1 cup small uncooked seashell pasta
1/2 cup butter, cut into pieces
1 cup cubed processed Velveeta cheese (pepper jack cheese works great too)
Preheat oven to 350 degrees (175 degrees C). In a medium baking dish, mix the corns, pasta, butter and cheese.  Bake, covered, for 30 minutes. Remove cover, stir, and continue baking 30 minutes.
The second was for Miranda's favorite quick, easy, and fool-proof dessert . . . a proven guest-pleaser.  Here's the recipe for it!
Magic
1 cup CRUNCHY Peanut Butter
1 cup sugar
1 egg
1 teaspoon vanilla
Preheat oven to 350 degrees. Mix all ingredients.  Roll into balls.  Crisscross with a fork and bake cookies for 10 minutes.
Hearing the recipe for Miranda's Magic, because it's essentially a cup of this and a cup of that, reminded me of Dolly's Cuppa Cuppa Cuppa from Steel Magnolias.  And I actually tried to make it once before (way back when I was in college and wanted something sweet and easy to make at my apartment).  Well, it didn't work.  I mixed all those ingredients together, threw it in a dish, baked it and came away with cement!  Yes.  My Cuppa Cuppa Cuppa was actually about the same consistency of the plaster you use to set a broken arm.  It was HORRIBLE!!
So, after I mentioned this to Nashville Kat and we talked and laughed about it, our studio lines began to ring off the hook.  Apparently, Ms. Truvy wasn't an idiot after all.  She was truly onto something.  This recipe allegedly works, according to a website Nashville Kat found.
That's from
WorthTheWhisk.com
, who put the recipe to the test as well.  That looks DELICIOUS!  And, trust me!  It doesn't look a darn thing like what I pulled out of my oven.  I wouldn't have bitten into my
Cuppa Cuppa Cuppa
with Dave Spencer's teeth.
But, WBKR listeners have come to the rescue.  Apparently, to make a full proof version of Cuppa Cuppa Cuppa, you actually need two more "Cuppas!"  The quick, easy, fool-proof recipe for cobbler is simply this . . .
Cuppa Cuppa Cuppa Cuppa Cuppa
1 cup flour
1 cup sugar
1 cup of fruit cocktail with syrup (or any fruit you want to use)
1 cup of milk
1 cup of butter
Preheat oven to 350 degrees.  Take your cup of butter, place in a baking dish and let it melt in the oven.  Meanwhile, mix all other ingredients together.  When butter is melted, pour your mixture into the pan.  Then, as Truvy says, "bake in a hot oven until golden brown and bubbly."
So, that . . . all you aspiring Steel Magnolias . . .  is how you make Cuppa Cuppa Cuppa.  I just can't believe it took twenty-three years to figure this out.  Who knew a recipe could be as tough to crack as The Da Vinci Code?
CHECK IT OUT: These words were born in the '80s
KEEP READING: 3-ingredient recipes you can make right now
KEEP READING: Scroll to see what the big headlines were the year you were born
Here are the top 25 hits of the '80s based on their overall popularity.