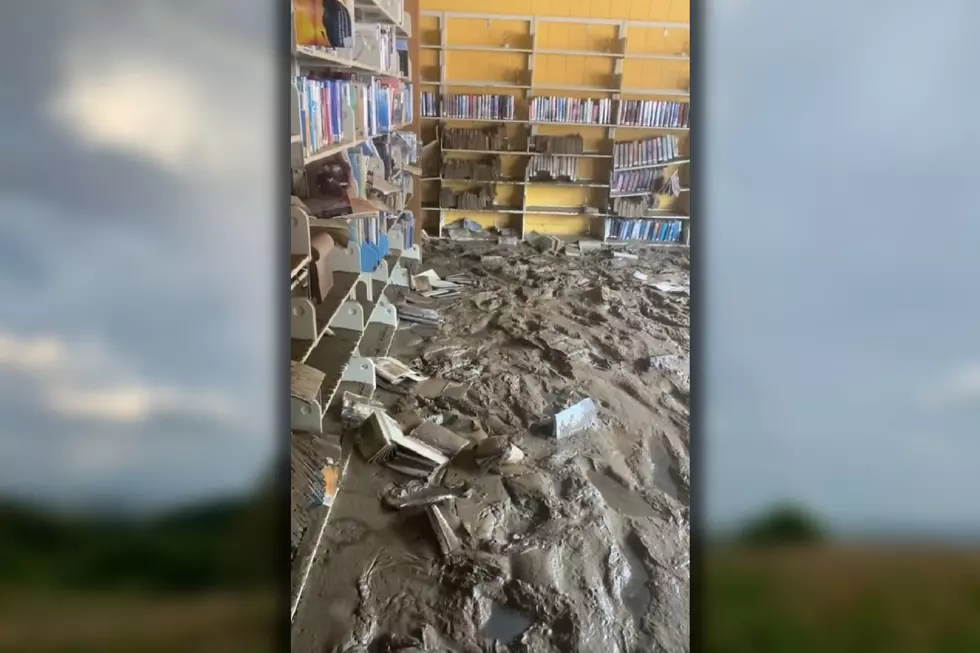 Eastern KY Schools Desperately Need Books to Replenish Libraries Lost in the Flooding
Kim Michele Richardson via Twitter; Canva
One wonders just how long it will take for eastern Kentucky to regain its footing after flooding that has devastated the area over the past month.
And that's a far more potent statement than it, at first, appears to be; it has BEEN a month since the rains that led to the majority of the catastrophic flood waters fell on the eastern part of the Commonwealth.
EASTERN KENTUCKY FLOODING BY THE NUMBERS
Multiple records have been shattered.
THE DEVASTATION SEEMS TO KNOW NO BOUNDS
Homes have been destroyed.
And in Letcher County, there are schools that no longer have libraries.
THREE EASTERN KENTUCKY SCHOOLS WITHOUT LIBRARIES
Multiple requests have been posted on social media asking for donations of books to restock libraries in two Letcher County elementary schools and one middle school.
While most Kentucky students are back in school for the 2022-2023 school year, those in Letcher County are still waiting for the green light. The hope is to get the year started sometime in mid-September. If school started now--and I obviously can't--those schools (at LEAST those, that we know of) would have no books in their libraries.
Devastating.
So here's what we can do to help these Letcher County schools. If you would like to send books that would be appropriate for elementary- or middle-school-aged kids, you may send them to:
Board of Education
752 Hazard Rd.
Whitesburg, KY 41858
Letcher County Superintendent Denise Yonts said that 40 of her 500 school employees have lost everything in the flooding.
Our hearts are broken but our spirits are resilient. We're going to get through this and we're going to take care of our kids. They're going to be better, we're all gonna be better. We just have to remind ourselves that this is temporary -- Denise Yonts
AN EASTERN KENTUCKY BOOK DRIVE BEGINS
Through all of this, as crews and school employees work to exhaustion trying to get the school year started at a reasonable time, all things considered, we can't help but think of what the students are dealing with as they wonder about what they'll face when they return.
Speaking from a personal standpoint, the libraries in the schools I attended in elementary and middle schools were places I couldn't wait to visit when I was a student.
You simply can't have a school without a library. So let's get busy and help restock these libraries.
Dramatic Drone Footage Captures Tornado Aftermath in Bremen & Dawson Springs, Kentucky
Local Tri-State tornado chaser Christopher Conley captures heartbreaking and gut-wrenching photos from his drone. Photos reflect devastation in both Bremen, KY, and Dawson Springs, KY. We in this area are so thankful for Chris as he ensures community members remain safe during the storms.
LOOK: The most expensive weather and climate disasters in recent decades
Stacker
ranked the most expensive climate disasters by the billions since 1980 by the total cost of all damages, adjusted for inflation, based on
2021 data from the National Oceanic and Atmospheric Administration (NOAA)
. The list starts with Hurricane Sally, which caused $7.3 billion in damages in 2020, and ends with a devastating 2005 hurricane that caused $170 billion in damage and killed at least 1,833 people. Keep reading to discover the 50 of the most expensive climate disasters in recent decades in the U.S.